IThings have changed again!" says the seven-year-old when we reach the snow line at around 1,400 meters. He is impressed that such a small island can hold so much. The mountains are approaching and the road curves are getting sharper; We've only been in the car for an hour, but this morning's beach feels far away. The ever-changing scenery keeps unrest at bay – no easy feat with a seven-year-old and a nine-year-old in the back seats.
Located between mainland France and Italy in the Ligurian Sea, Corsica is often referred to as Île de Beauté. Corsica is known for its geographical diversity: two-thirds of the island is a crumpled mass of granite peaks, torrents and valleys that were formed 250 million years ago.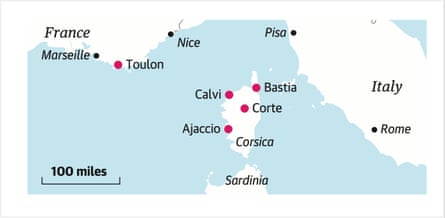 The continuous mountain range, which intersects like a spine in the middle of the island, forms the backdrop for one of the most spectacular hiking routes in Europe, the GR20. It's also one of the most challenging on the continent, but a little research reveals that much of the route is accessible in bite-sized sections that are doable with young children. With around 200 beaches, coastal paths and fabled harbors framing the peaks, it's a dream combination for an active family holiday.
Even better is the fact that we can experience such epic landscapes without even boarding a plane. With the help of no-fly tour operator Byway, we're adding three days to our trip, taking a leisurely round trip by train and night ferry, and adding a sense of adventure that flying could never offer. Breaking the journey in Cassis in southern France, we fall head over heels in love with the laid-back port and nearby Parc National des Calanques before boarding a coastal train to Toulon.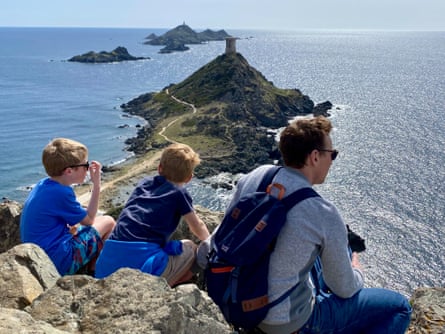 From there we sail overnight with Corsica Ferries to the capital Ajaccio on the west coast of the island. The ride itself is fun. After enjoying the onboard disco and spotting fin whales in the moonlight (the Ligurian Sea is a migratory channel), we sleep soundly in a four-person cabin. Disembarking at dawn feels exotic. Palm trees sway over quiet streets and snow-capped mountains glow in the rising sun. Our first hotel, La Pinède, is a 15 minute taxi ride west along the coast.
Later that day we take a bus to the Pointe de la Parata headland to climb rocks, hunt lizards and get lost in a kaleidoscope of greenery with pockmarked white and pink cistus. It's our first look at the maquis – scrub that covers more than a third of the island. Composed of myrtle, thyme, honeysuckle and other fragrant hardy plants, it is particularly beautiful from mid-April when we are here until late June.
Ajaccio itself offers history lessons of a different kind. Napoleon Bonaparte was born here, and on the way to his childhood home, which is now a museum, the children lure us to Naporama, where the life story of the military leader is told in more than 800 Playmobil figures . It's an exciting Napoleon fix for a day. "I'm not sure he was a great guy," comments the nine-year-old, despite our guides' efforts to convince us otherwise.
Departing from Ajaccio, we'll explore the northern half of the island on a route that includes a bit of everything in minimal distances (our longest trip takes less than two hours). For those who have more time, the whole thing can also be done by train thanks to the Chemins de Fer de la Corse. But since we travel off-season, when the trains aren't as frequent, we rent a car and take turns boarding for some sections of the route.
Our second night's accommodation is in a pastel pink Wes Anderson-style guest house, U Castellu, in Vizzavona, an hour inland from Ajaccio. The GR20 passes just moments from the hotel, so we follow its red-and-white trail markers to the Cascade des Anglais waterfall, squealing with delight as we discover moss-covered plunge pools fit for the most mythical of worlds. In the hotel, an evening feast awaits us with braised pork ("mountain pig!" raves the chef) and eggs baked in cream cheese. It might not be the lightest of cuisines, but everything is proudly local.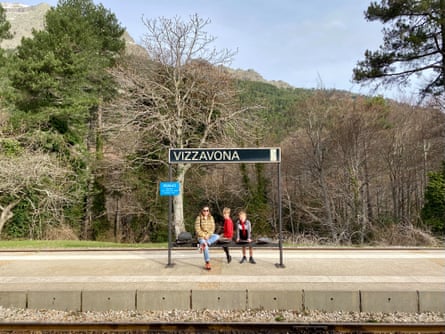 The next morning we leave early to follow the GR20 in the other direction and climb Bocca Palmentu (1,640 meters). Over three hours we climb through dense pine forests, past sporadic groups of crocuses and over snow-covered trails to a heather-covered plateau. The route can get crowded with hikers in high season, but April is quiet: it seems we're just as likely to be disturbed by wild boar as humans.
The next stop is Corte, the cultural heart of the island. Two of us take the train from Vizzavona and pirouette through steep valleys on the 19th-century Trinichellu route (little railway). The city is surrounded by towering peaks and houses an impressive citadel. So it's easy to understand why the nationalist leader Pasquale made Paoli Corte his capital after declaring independence from Genoa in 1755. It still exudes a quiet sense of rebellion: locals cackle over glasses of Cap Corse (a bittersweet fortified wine) in sunny squares from 10am.
Housed in the former citadel barracks, the Musée de la Corse is a mix of anthropology and history – perhaps reflecting the island's yearning to make peace with its past while holding on to its unique culture.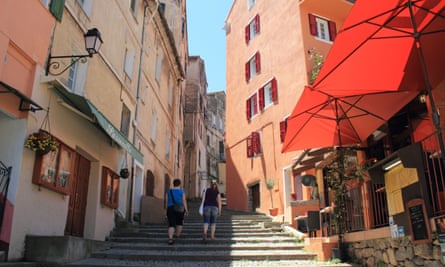 However, our boys are more drawn to the old nooks and crannies of the fortress. Church bells ring, kites soar overhead, and house martins flit between terracotta roofs; we wonder if we have slipped into another century.
Your home for the next two nights is Les Jardins de la Glacière, a hotel between rock and river in the Vallée de la Restonica. It's a well-known swimming spot, so we'll brave the cool waters before hiking to a glacial lake, Lago di Capitello.
Then the landscape changes again. Tall Corsican pines, bleached boulders and rusty shelters remind me of the Rocky Mountains.
"I'm Spider-Boy!" the seven-year-old yells as he climbs rocks. After the picnic at the frozen lake above, we slide down the snowy paths on our butts.
At our next stop – Calvi, the capital of the Balagne in the north – we plan some beach time. But we're in no hurry and weave our way along the Route des Savoir-Faire de Balagne, which showcases more than 40 small artisans scattered in charming hilltop villages.
"It helps keep tourists off the beach," says a potter in pretty Pigna after inviting us to see his wheel in action.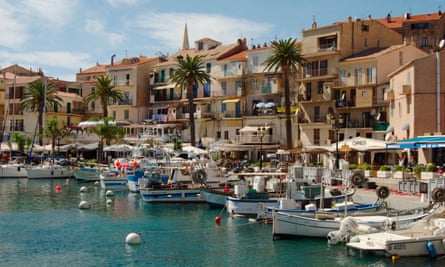 Calvi's smooth waterfront feels like another world again. The city has it all – fancy yachts, a citadel plunging into a cobalt blue sea and a five-kilometer bay of white sand. After dropping off the bags at the Hôtel Casa Bianca, we go to the beach.
The next day we make the most of the coastal tram and stroll past gnarled pines to Plage d'Aregno for lunch. We can't believe our luck when we spot dolphins off shore and a golden eagle overhead.
The ferry waves back too early and we drive to our last stop, the city of Bastia on the northeast coast. Less glamorous than Ajaccio, Bastia has charm in abundance. We spend a day playing cards in the old citadel while hundreds of swifts screech overhead and children play football on cobbled squares.
Burn marks on the street tell of recent unrest and the island's ongoing quest for independence. The past plunges into the present, leaving us with more questions than answers.
It's a fond reminder that the beauty of Corsica may lure visitors for the first time, but it's the layers beyond the landscapes that will bring them back. Corsica reflects its complex past while managing to be proud, aloof, complex and lucid: traits that are perhaps best showcased as they slowly progress during the quieter months, adding a bit of depth to an ideal family adventure.
The trip was provided by Visit Corsica. A nine-day overland journey to Corsica and back, including all transport and accommodation, costs from £797 per person with Byway