I was driving across a steep valley in the Vanoise National Park in the French Alps when something in the sky caught my eye. My brain, unable to process what the huge black, ragged-looking thing could be, concluded it had to be a drone trailing a garbage bag, so incomprehensible was its size. But as it flew overhead, I saw a flash of orange underbelly and realized I was looking at a huge bird.
A quick Googling suggested it wasn't a golden eagle – although they live there too – but a Lammergeier or Bearded Vulture, and several breeding pairs inhabit this part of the Savoie. These colossal scavengers, whose wingspan can reach 2.8 metres, were reintroduced to the Alps in the 1980s after being hunted to extinction a century earlier. Back then, they were known as "devil birds" and were considered not only predators for sheep (the name translates to "lamb vulture"), but also for small children. Given the comparable size of my own two children in the back seat, I could see why. I clicked the parental controls.
Seeing such a rare and spectacular animal purely by chance is no ordinary ski holiday thing – crows and once in the blue moon a marmot are as exciting as it gets. But I've come to a quieter, wilder part of the French Alps and this is different.
The Haute Maurienne valley runs from Modane (with a four-hour TGV connection to Paris) to the Italian border, bordering the much more popular Tarentaise, home to the mega-resorts of Les Trois Vallées, Espace Killy and Paradiski.
But so are the Alps right next door: The Maurienne is comparatively unspoilt, sleepy and has six ski areas, each offering something completely different. And the great thing for skiers is that you can drive them anywhere under one pass.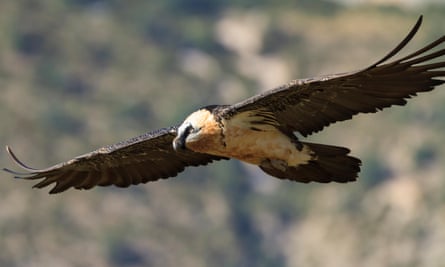 The setup has something for everyone, but it also has something for every type of skier a person can be. I'm quite an adventurous snowboarder who loves powder, but I'm also a mom and I've been traveling with my kids aged five and eight. My partner loves extreme skiing and we both enjoy finding small but awesome ski villages. At the same time, I was on a nostalgia journey when I realized that the first place I ever skied on snow – Valfréjus, 1988 – was in the Maurienne. If we could all tick those boxes, it would be a trip.
It was Easter, just before spring, but when we pulled into Val-Cenis, the largest and most family-friendly resort, there was snow all the way down to the village. Its 62 runs face north, meaning they hold back snow. While there's no guarantee this year will be the same – especially given the changing climate and patchy season we've had – there's an improved chance for some decent Easter coverage.
Like many other families in on the secret, we stayed in one of the large, well-kept apartments with pool and spa at Les Chalets de Flambeau, practically at the foot of the beginner slopes in Lanslevillard, one of several Val Cenis villages connected by are lifts and runs.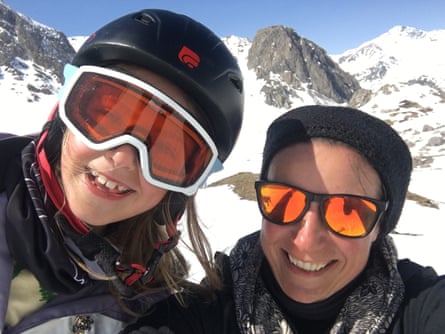 Escargot, Familiale – the kids quickly knew the names of their favorite slopes and preferred places to stop: chocolate chaud at La Ferme du XXIII, where a pane of glass in the floor looked down on a stable full of goats, and La Crêperie des Glaces, or what the kids called the Yeti Café because of a large plastic statue, which served succulent, hearty galettes next to the fun park. I enjoyed an après-ski Grimbergen "champagne beer" at Aux 2 Mousses. We went night tobogganing and ate at L'Estanco, where old wooden skis and big white pants were hung decoratively like modern laundry; but the food – Beaufort salad, rabbit mustard with Savoie crozets Pasta – was anything but pants.
The children made friends and enjoyed their classes – there was no reason to go anywhere else; The family requirements were met. But a thirst for adventure gnawed at me. So after a few days, I set out on a solo mission to La Norma, a 30-minute drive away, to go splitboarding with a guide for half a day.
I felt more like a middle-aged mom than an extremely tough nut, intimidated by the technicalities, the technique required, and the prospect of a 600m climb. But Sylvain Rechu from Up Guides reassured me. As we rode the cable car up and saw jagged mountain ranges all the way to Orelle – a resort in the lower Maurienne with a new lift link to Val Thorens – I felt the old snow fever flare up again.
I asked Sylvain if he thought Haute Maurienne would also incorporate links to the Tarentaise, as was rumoured: 'No way!' he said. "People here don't want that."
Indeed, this pristine haven would have a lot to lose. At the top, we hopped on and climbed away from the trail network, zigzagging up into the Saint Antoine Valley, a beautiful empty canyon of virgin snow. Then came the exhilaration: racing through fluffy, light powder for only seconds, but great seconds. Seconds that ticked a box.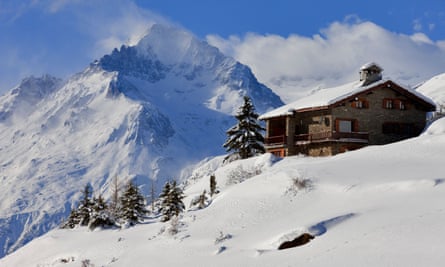 Our next trip was en family to Valfréjus, a small, budget-friendly ski resort with 23 runs that opened in 1983 at the dawn of mass skiing. I was eight years old when I last came here, but I felt a faint recognition of the purpose-built blocks at the foot of the village. The grin on my children's faces as they whizzed over a ridge between two bowls was certainly reminiscent of mine and my sister's of the same age when we fell in love with snow-capped mountains after months of learning on a dry Staffordshire track. A nostalgic tear welled up. Tick.
After a week we moved west and a very different vacation began. The snow in Val-Cenis had gone from frozen corduroy to lumpy mashed potatoes over the course of the sunny days, but driving 30 minutes to higher-altitude Bonneval-sur-Arc felt like rewinding to winter. Past Bessans, a cross-country resort with hiking trails circling a still-frozen lake, the landscape turned positively Himalayan and we spotted the Garbage Bagbird, then a group of Chamois stumbling between metal boulders.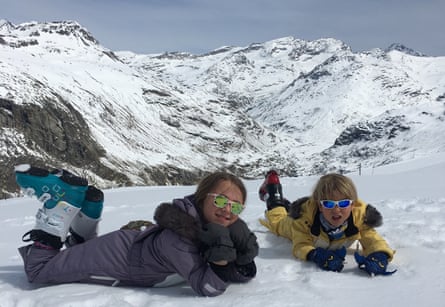 Arriving in Bonneval was like stepping into a history book of alpine traditions. Dark wooden chalets nestled against the gnarled landscape and all around was the stark spectacle of the Vanoise. We'd rented a modern apartment in an old stone building whose oversized lightbulbs, heated floors, and sleek black bathrooms indicated an appetite for design that didn't keep up with the wild surroundings; more appropriate were the Himalayan prayer flags fluttering on the hillside in front of the Rockabar cafe.
Although there were only 26 runs, they offered a good mix. The kids begged to do "the fun run" over and over again, swinging skis through tunnels and swinging punch bags, banging a chime with their sticks and giant plastic hands, while my partner was kept entertained by a slew of exciting off-piste runs by a surprising additional pile of snow around the top of Bonneval's highest lift at 3,000m. From there we could look across the valley and glimpse the upper chairlifts of Val d'Isère on a crest – a prosperous, well-developed world unto itself, and somewhere I had no longing.
Then spring really got going. Hills turned green, wild crocuses came alive. The skiing was still good but we were also able to walk and hike to the tiny hamlet of L'Ecot at the top of the valley, spot frogs and lizards and stop to paddle in the freezing creeks that cascade down the slopes. Après ski was idling on our balcony in the sun watching marmots scamper across the grassy slopes below us.
Paddle. sunbathing wildlife. More boxes were ticked. So it wasn't just a trip for every type of skier, but for many types of vacationers, including all that have come from us.
Gemma was a guest at Peak Retreats. Seven nights self catering at Les Chalets de Flambeau in Val Cenis in a two bedroom apartment costs from £258 per person based on five people. The price includes round-trip travel through the Eurotunnel with free Flexiplus upgrade for most appointments. The writer traveled independently in Bonneval-sur-Arc, stay at Chalet La Cascade. Seven nights in April for four people cost from €1,080 (location-appartement-bonneval.com)
6-day Val Cenis pass from €127 (valcenis.ski/categories/skipasses). Lift passes each include one day in the other ski areas (incl also) plus six days at your home/base resort and unlimited cross-country skiing in Bessans. Ski hire was provided by Intersport (intersportrent.com) from €8 pp per day including skis, helmet, poles and boots