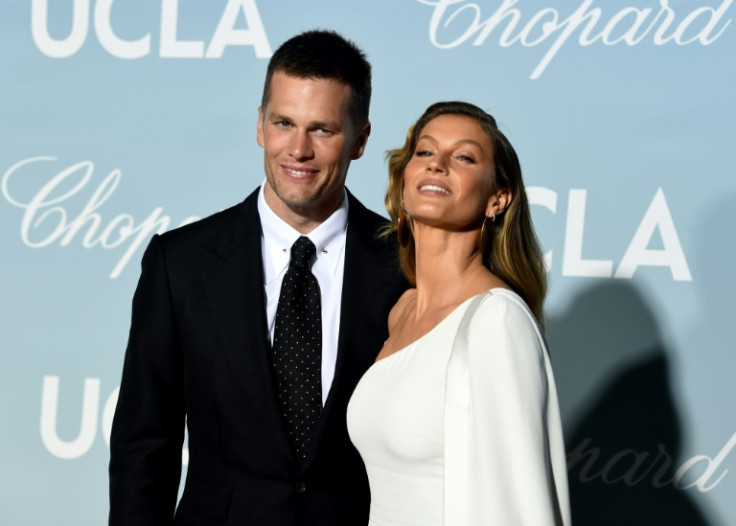 IMPORTANT POINTS
Tom Brady celebrated Valentine's Day with a quote from Yogi Sadhguru
Gisele Bundchen celebrated Valentine's Day by posting photos of her kissing and playing with her two dogs
Brady recently said that once he retires, he will focus on his family
Tom Brady and Gisele Bundchen celebrated their first Valentine's Day since their split.
Brady, 45, who has just retired from the NFL, shared a cryptic message about love on Tuesday, four months after finalizing his divorce from the Brazilian supermodel.
The former Tampa Bay Buccaneers quarterback reposted a quote from Sadhguru, a popular yogi and mystic, via his Instagram Stories.
"Love is not a transaction; there's a certain exuberance and sweetness to your feelings," the quote reads, Page Six reported.
Brady also uploaded a series of sweet photos of his kids on the most romantic day of the year. He shares two children – Benjamin, 13, and Vivian, 10 – with Bummel and 15-year-old John Edward with ex Bridget Moynahan.
"True love," the athlete wrote on Instagram Stories alongside a photo of Benjamin hugging Vivian. "The sweetest."
"HVD," Brady wrote with three heart emojis next to a photo of Jack with a puppy.
Meanwhile, Bundchen celebrated her first Valentine's Day after the divorce by sharing snaps of her kissing and cuddling with two of her dogs, Lua and Fluffy.
"Pure love!! I am convinced that they are little angels on earth. Happy Valentine's Day everyone!" She wrote on Instagram along with three red heart emojis.
A number of fans and followers agreed with the former Victoria's Secret Angel, praising her for being a good fur mom.
"Animals are something special on this earth," one user commented on her post. Another follower said: "Yes! They are better than humans."
"I remember your little dog Vida! You were always the most loving fur mom!" added another follower.
However, some expressed their sadness at the end of Bundchen and the seven-time Super Bowl champion's 13-year marriage.
"That hurts. As much as I love dogs, it hurts not to see Tom in them," one fan wrote.
For months, it was rumored that Brady's decision to retire from the NFL and return for his 23rd season last year caused problems in his marriage and led to a falling out between him and Bummel.
The couple never addressed the rumors of marital feuds, but shocked fans when they announced their divorce on Oct. 28, 2022.
On February 1, Brady announced for the second time that he was retiring from playing football, insisting this time it was for good. The supermodel left a supportive message for her ex-husband in the comments section of his Instagram post.
"Wishing you only wonderful things in this new chapter of your life," Bundchen commented alongside a prayer emoji.
Brady recently said that once he retires, he will focus on his family.
"I look forward to exploring many other parts of life that have been put aside for now," he said in an episode of his Let's Go! film. podcast. "I'm sure I'll feel some other things over time, but you know, I'm doing great."
The former NFL star added that he was "excited" for "another great opportunity."