The Spider-Verse returns this May in a new anthology limited series, Edge of Spider-Verse, featuring a whole new set of stories starring various Spider heroes from Marvel's multiverse – just in time for the upcoming Spider-Man: Across the Spider- Animated film in verse.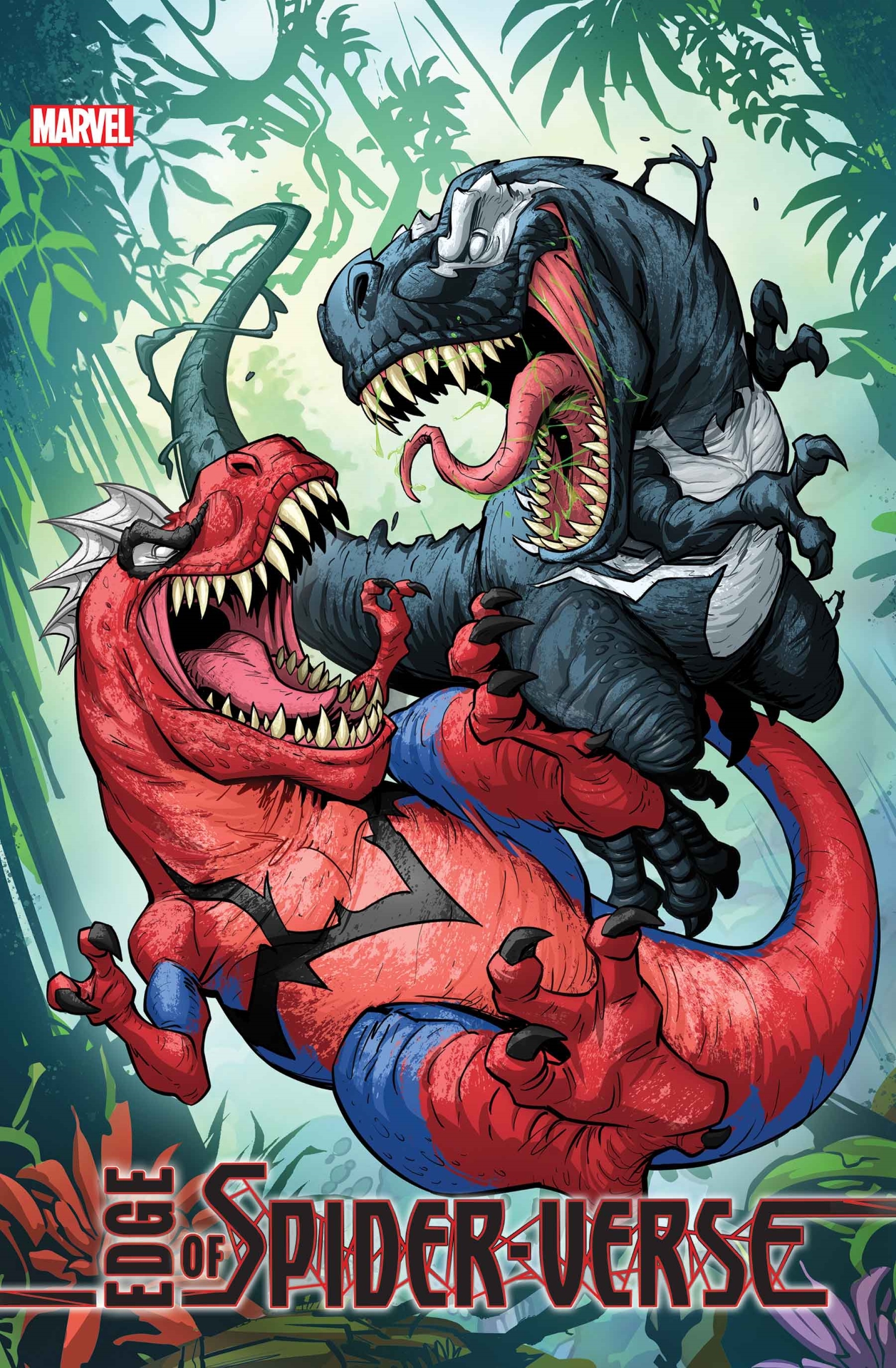 (opens in new tab)
This time, Edge of Spider-Verse #1 brings back the dinosaur Spider-Man, Spider-Rex, to battle a full-fledged Dino Venom named Venomsaurus in a story by writer Karla Pacheco and artist Pere Pérez.
Then writer/artist Xander Cannon introduces "the scariest spider character ever created!!!". (focus on Marvel). This terrifying character is apparently called "The Spider-Killer," and that's about all we know.
Then, in the final announced story in the new 2023 Edge of Spider-Verse #1, author David Hein, known for his hit Broadway show Come From Away, reunites with artist Luciano Vecchio to explore another of the breakout characters Bringing back from the 2022 Edge the Spider-Verse limited series, Spinstress.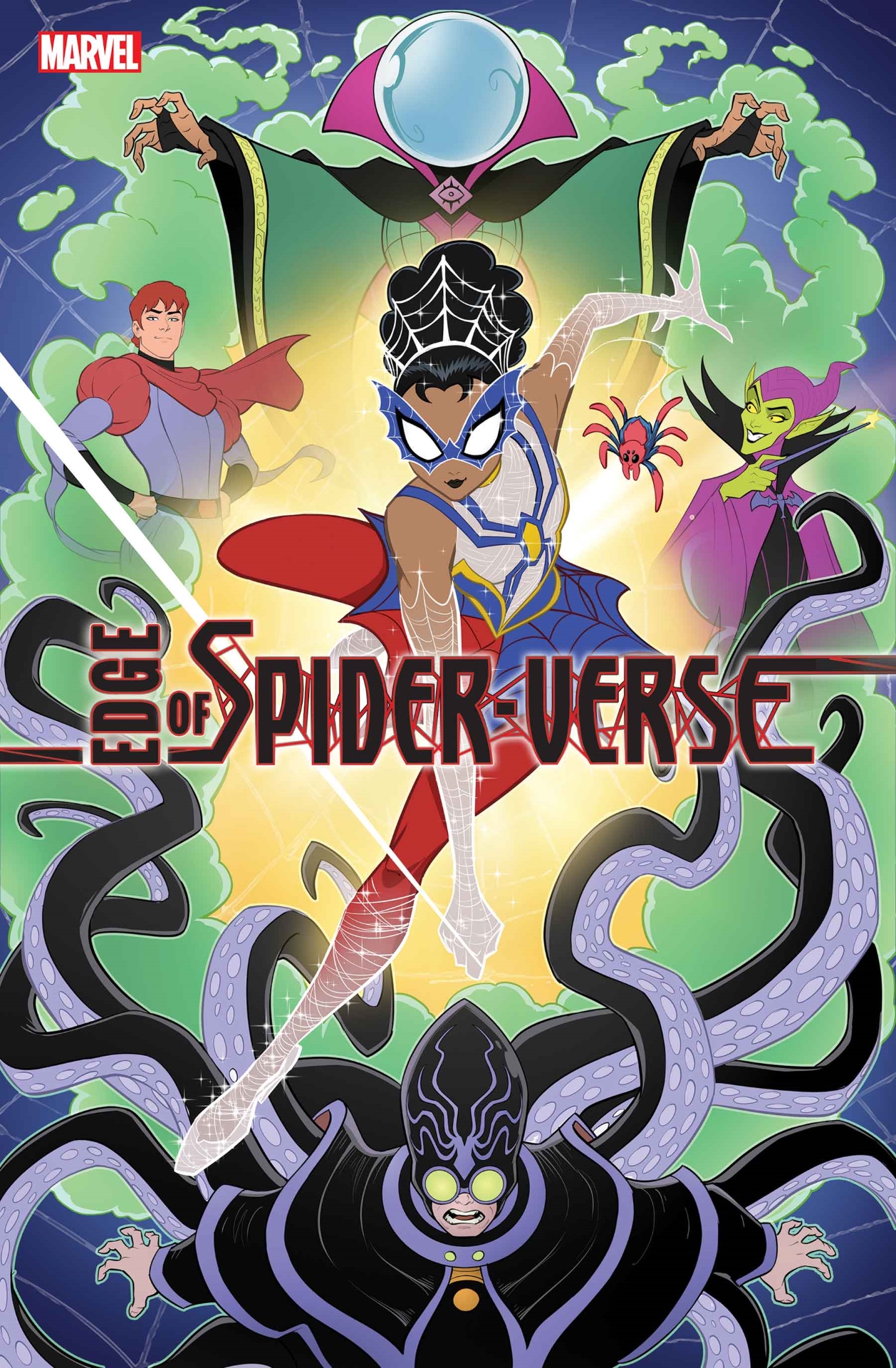 (opens in new tab)
"Watch the most magical Spider heroine of all as she sings herself into the biggest fight of her life!" reads Marvel's official description of the Spinstress story. Marvel also promises "much, much more!"
"You'll never guess what other creators and spiders will show up!" reads the Edge of Spider-Verse publisher's announcement.
Some of these creators and characters will appear shortly after the May 3rd release date of Edge of Spider-Verse #1, while Edge of Spider-Verse #2 is scheduled to go on sale on May 31st. You can see the covers of both issues here.
At the same time, Marvel is releasing a series of no fewer than 30 Spider-Verse-themed variant covers in May, each featuring a popular Marvel hero intermingled with Spider-Man – and the publisher promises more Spider-Verse variants to come of the year 2023.
Here's a gallery of the covers, followed by a list of what titles appear on them and who created them, ordered by release date:
May 3rd
Captain Marvel #49 by Romy Jones
Immortal X-Men #11 by Taurine Clarke
Moon Knight #23 by Declan Shalvey
Scarlet Witch #5 by Marc Aspinall
10th of May
Dave Johnson #11 by Dave Johnson
Ghost Rider #14 by Rod Reis
The Invincible Iron Man #6 by Ario Anindito
Rogue & Gambit #3 by Ema Lupacchino
Wolverine #33 by Leinil Francis Yu
X-Men Red #11 by Luciano Vecchio
17th of May
Bloodline: Daughter of Blade #4 by Betsy Cola
Captain America: Sentinel Of Liberty #12 by Carlos Gomez
Fantastic Four No. 7 by Giuseppe Camuncoli
Guardians of the Galaxy #2 by Chrissie Zullo
Hulk Annual #1 by Cully Hamner
Red Goblin #4 by Mike Mckone
She Hulk #13 by Jen Bartel
Poison #19 by Dan Panosian
X-Force #40 by Bjorn Barends
X-Men #22 by Gerald Parel
May 24th
Hellcat #3 by David Baldeon
Punisher #12 by John Cassaday
Thor #34 by Javier Garrón
31. May
Amazing Spider-Man #26 by David Talaski
Avengers Beyond #3 by Todd Nauck
Captain America: Symbol of Truth #13 by Pete Woods
Deadpool #7 by Peach Momoko
Doctor Strange #3 by Mahmud Asrar
The previous Edge of Spider-Verse limited series launched the current Spider-Man title from writer Dan Slott and artist Mark Bagley, which delved heavily into the concept of the Spider-Verse itself.
Stay tuned to Newsarama for the full May 2023 solicitations from Marvel Comics, coming later this month.
These are all Spider-Man variants that we can name in Spider-Man: Into the Spider-Verse.