Google just announced a huge suite of new AI tools that could transform the way we use some of its most popular apps, including Gmail, Google Docs, and more.
In both an official blog post (opens in new tab) and video (below), the tech giant unveiled several new AI tools coming to its most popular apps. The first will initially only be available to select tester groups in Gmail and Google Docs, but we also got a tempting preview of those also available in Google Sheets, Google Slides and Google Meet.
The move will most likely rival competitors in the AI ​​space like Microsoft's ChatGPT-powered Bing and Microsoft 365. As AI becomes more popular, Google has struggled to follow the movements of its competitors in the market, going so far as to rush to announce its own Google Bard chatbot, which isn't yet available to the public. In addition, there was an unconvincing presentation, in which even the company's own employees rolled their eyes.
Still, from what we've seen in this demonstration, the results look far more practical and promising than the AI ​​tools Google has announced so far. They have been integrated with Google Workspace, so users will soon be able to use generative AI in multiple writing functions. For now, only trusted testers will have access to these new tools, but after that, they'll roll out to all Google users.
So, in no particular order, here are the best AI tools coming to Google's product line.
The 5 most useful AI tools for Google apps
1. Gmail: Instant summaries of long conversations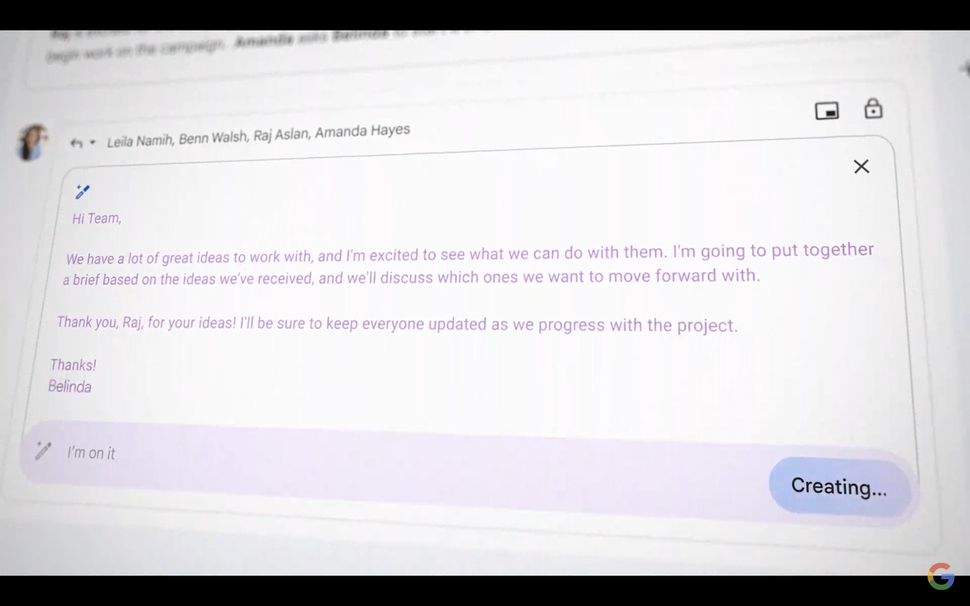 If you've ever opened your work email only to find an extremely long and confusing email chain, this tool might be for you. With this dedicated AI tool, you can quickly summarize long email conversations, pull out the most relevant information and lay it out in one neat box.
From what we've seen in this demo, it even adds the names of those involved in the conversation, giving the summary even more context and clarity. And it drafts an answer based on all the information gathered. Of course, it remains to be seen how accurate this tool will be, as missing information from this summary could hamper your work.
Most likely it will use machine learning to improve the quality of work, which should mean it won't skip important information as it will be used more often.
2. Gmail and Google Docs: time-saving drafts when you type in a subject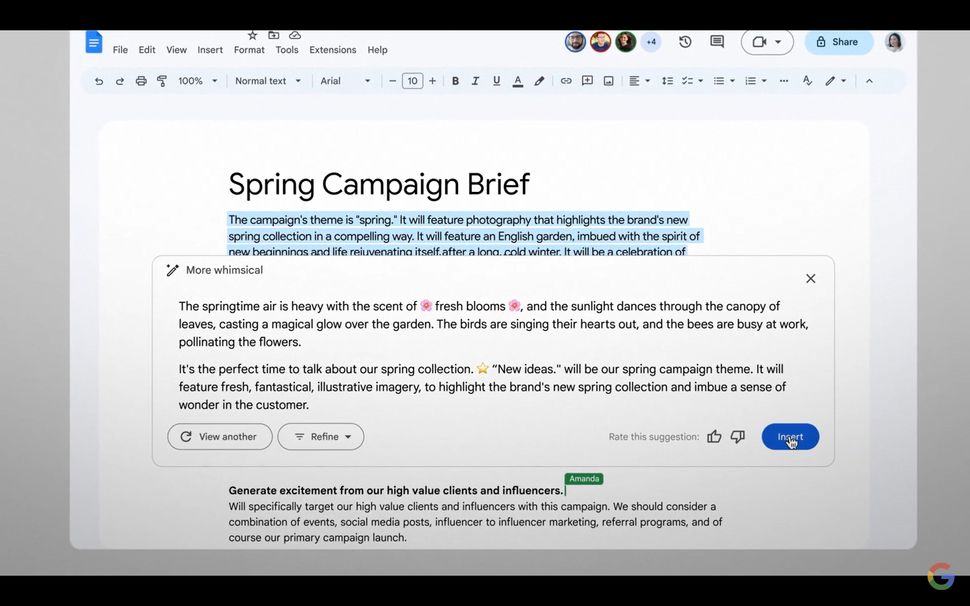 Of all the AI ​​tools featured in Google's presentation, this AI writing and brainstorming feature seems to have the most promise. As demonstrated in the demo, a prompt that says "Help me write" followed by the requirement "Job Post for a Regional Sales Representative" results in an instantly drafted job posting.
From there, the human user would of course edit and refine the document, but creating a draft right away saves a lot of time and effort. You can also use the tool to add specific sounds to your document depending on the situation, e.g. B. whimsical or formal.
This AI tool offers a lot of flexibility, and the fact that it works for both document composition and email should make it even more valuable.
3. Google Slides: AI-generated presentations with images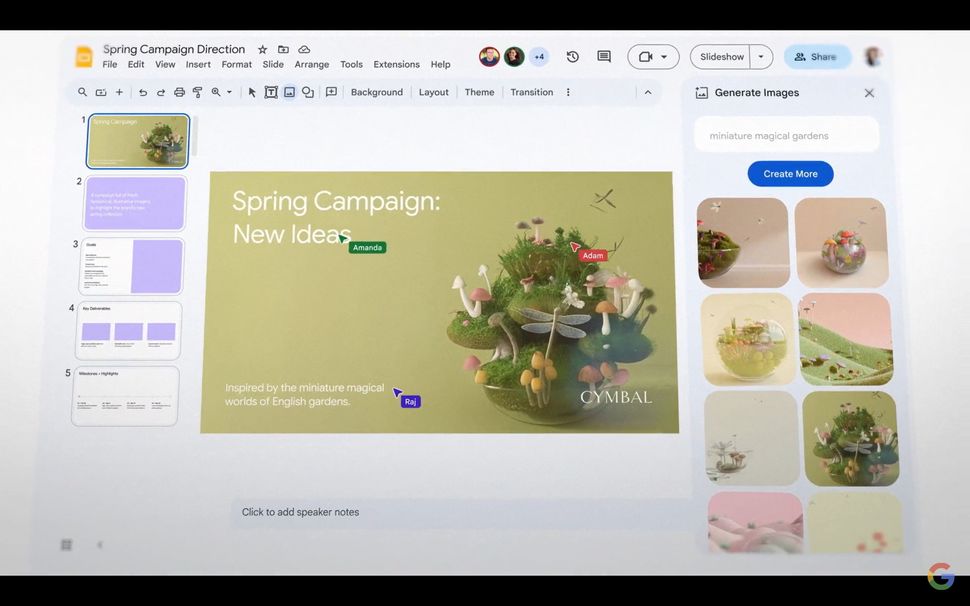 This is by far the most controversial of Google's new AI tools. The core of the concept, creating slides for a presentation in Google Slides, is a smart concept that could save a lot of time and energy when it comes to creating layouts on the fly. However, unlike the other tools that use text already written by you or colleagues, this tool creates images, audio, and video and then inserts them into your presentation.
But where does this media come from? A database collected by Google's AI, of course. But where does the AI ​​then pull the references to generate this content? That's the problem and something Google probably needs to address.
As it stands, this technology has often been misused to the point of plagiarism, and it remains to be seen whether Google uses a personal database or pulls it off the web to create this content.
4. Google Meet: Capture notes via AI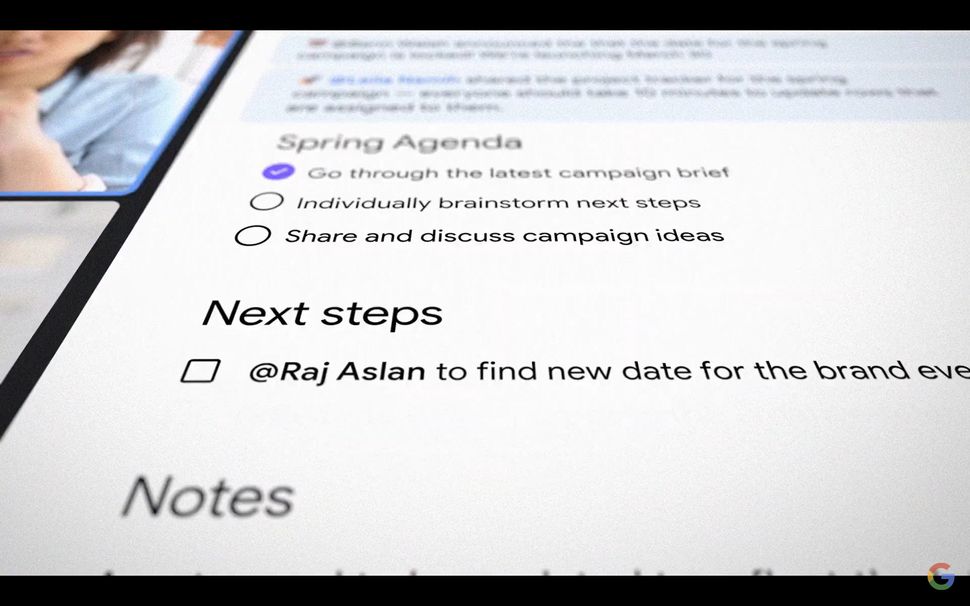 This is another AI feature that could potentially save a lot of time and effort. This tool captures notes from conference calls and other meetings with audio, then takes "notes" of that meeting and summarizes the key points in an easy-to-analyze format.
Judging by the demo, the most impressive part of this note-taking tool is how it organizes the notes, using complex formatting like bullets, calendar icons to show an important date, headings, and more. Not only does it look incredibly organized, but it also works much faster than a human.
This tool would free everyone's time and energy to focus on the meeting itself and would not require one person to take those notes. That means everyone can participate.
5. Google Sheets: Autofill data entry with AI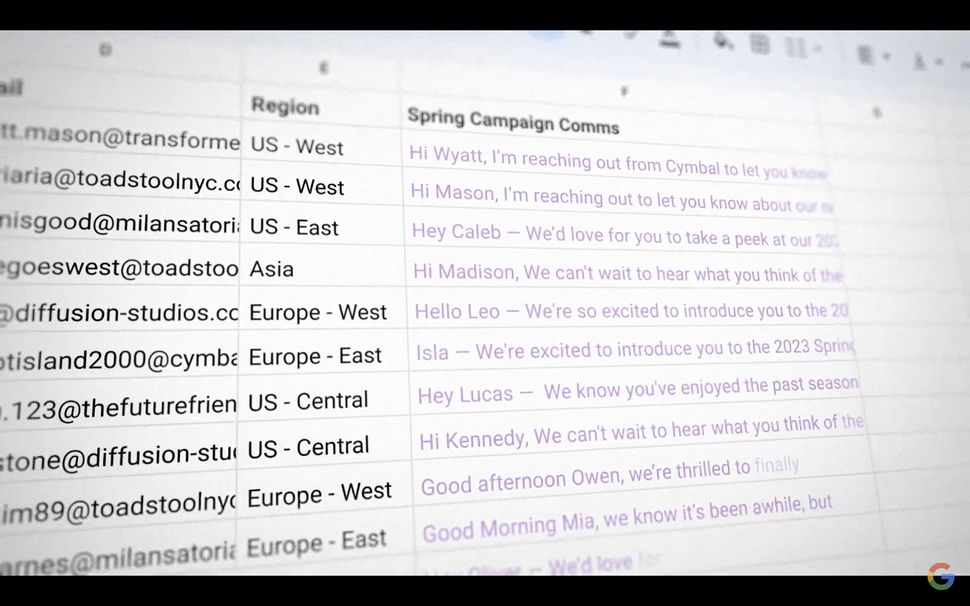 Data entry can sometimes be repetitive and tedious or even confusing when dealing with extremely large datasets. This AI tool would be especially handy for analyzing dense amounts of information and then turning that information into data charts.
The demo showed the command "Personalize messages for our client" and then created a unique message for each of them next to each entry, most likely as a mailing list. A task that would take a long time for a human to accomplish was done in a jiffy.
Of course, a human would need to edit each message to ensure quality, but creating the drafts is an incredibly useful and time-saving first step.