SpaceX's Crew-5 astronauts have returned to Earth.
The four astronauts on the SpaceX Dragon capsule, named Endurance, landed late Saturday (March 11), completing a five-month mission to the International Space Station. Returning on the capsule were NASA astronauts Josh Cassada and Nicole Mann, Japan's Koichi Wakata and Russia's cosmonaut Anna Kikina, who splashed in the dark after landing at 9:02 p.m. EST off the coast of Tampa Bay, Fla. had raced across the Gulf of Mexico (0202 GMT on March 12).
"Thank you SpaceX, that was a great ride!" Mann radioed to SpaceX's mission control team after the splashdown. "We're glad to be home."
Related: Aurora Borealis and Beyond: Crew 5 astronauts reflect on their time in orbit
The four astronauts spent 157 days in space during their mission to the Space Station on a mission that marked Mann, Cassada and Kikina's first-ever spaceflight. It was the fifth flight for Wakata, who has now completed 505 days in space. SpaceX recovery teams arrived quickly in speedboats from the company's recovery ship SS Shannon (named after astronaut Shannon Walker, who flew for NASA on SpaceX's Crew 1 flight).
Endurance undocked from the station at 2:20 a.m. EST (0720 GMT) Saturday and then performed a series of maneuvers to get on course for atmospheric reentry. The safe, parachute splashdown concluded SpaceX's fifth operational mission for NASA's Commercial Crew Program, which saw space station personnel swap out with the recently arrived members of Crew-6.
NASA officials said the Crew-5 dragon lit up the night sky as a brilliant streak of light as it reentered Earth's atmosphere.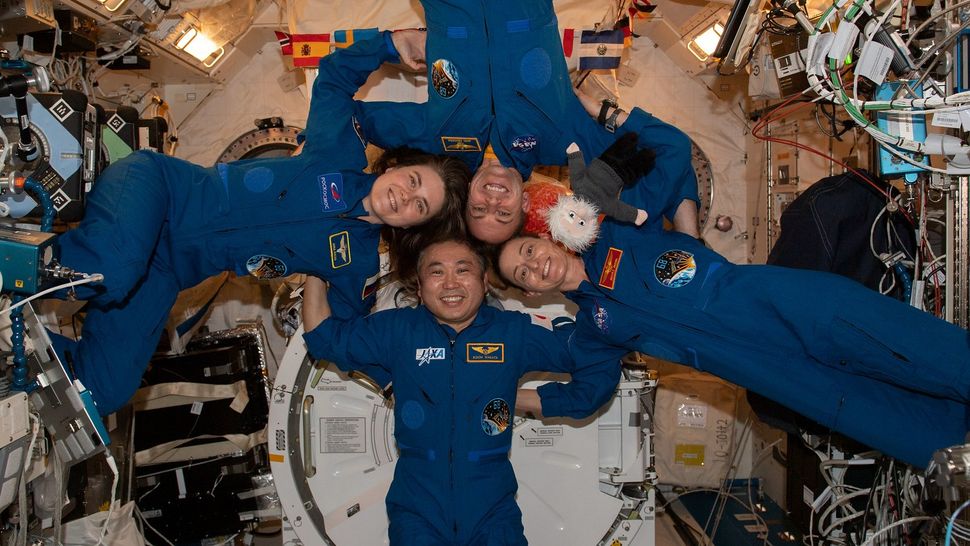 The Crew-5 mission achieved two historic firsts: Mann became the first Native American woman to reach space, and Kikina became the first Russian to fly in a private American spacecraft. Additionally, the mission marked Wakata's fifth return from space – a Japanese record – with Crew Dragon, the third crewed ship he has flown on.
Incidentally, it would also have been possible for a fifth passenger to come home with the Endurance. In mid-December 2022, a Russian Soyuz spacecraft docked at the station leaked and lost all of its coolant, apparently after suffering a meteorite impact. This Soyuz was to be the homeward voyage for three spacemen, including NASA's Frank Rubio.
In January, Endurance was temporarily equipped to carry an extra person – Rubio – in case an emergency evacuation from the ISS was required. (The other two Soyuz crew members, cosmonauts Sergei Prokopyev and Dmitry Petelin, would have taken the wounded Soyuz home; Russian space officials had determined that the spacecraft could safely carry two people, but not three, without coolant.)
However, the Endurance modifications were removed last month after Russia's space agency Roscosmos launched a replacement Soyuz to serve as a ride home for Rubio, Prokopyev and Petelin.
SpaceX's Crew-6 arrived March 3 for a six-month stay at the Orbital Lab, bringing NASA astronauts Warren "Woody" Hoburg and Stephen Bowen, cosmonaut Andrey Fedyaev, and UAE astronaut Sultan Al-Neyadi (UAE) on the Dragon Capsule Endeavor.
Crew-6 is also a historic mission: Al-Neyadi is the first astronaut from the United Arab Emirates to fly a long-term space mission.
Follow us on Twitter @spacedotcom (opens in new tab) or Facebook (opens in new tab).