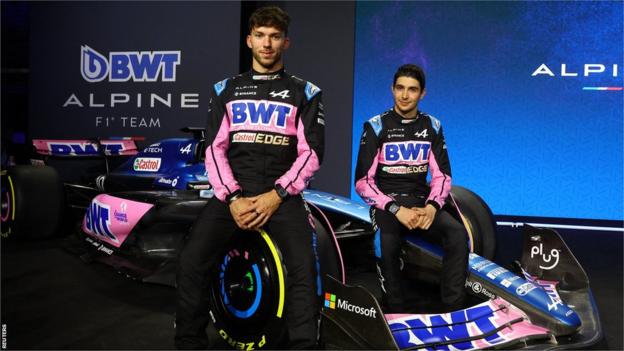 Pierre Gasly and Esteban Ocon believe that despite their cool personal relationship, they can work together to achieve the Alpine team's ambitions.
The French were childhood friends and karting rivals but fell out a few years ago.
"We're grown people, more mature, and we understand our responsibilities as Alpine riders and we have such a large group behind us," Gasly said.
"We need to work closely together if we want to be competitive," he added.
"So I have no doubts that everything will be fine."
Gasly joins Alpine from Team Alpha Tauri, having raced for Red Bull-owned teams throughout his Formula 1 career.
The 27-year-old said: "I've spent more time with him in the last two months than in the last 10 years. It's going well."
Ocon, who has been in Renault's own team since 2020, said: "I'm confident. They like the headlines and all those stories, but we're both very professional and we'll work the way we need to perform.
"I don't think we'll ever be best friends but that doesn't matter as long as the atmosphere in the team is great and that's how it is at the moment and that's how it will stay throughout the year.
"What's important is that we have these open conversations that we're having right now and that we're going to have throughout the season because we're not at the point where we can win every race.
"We need to develop this car and get the maximum flow of conversation to come up with ideas for the future. I'm not worried It will be a great collaboration."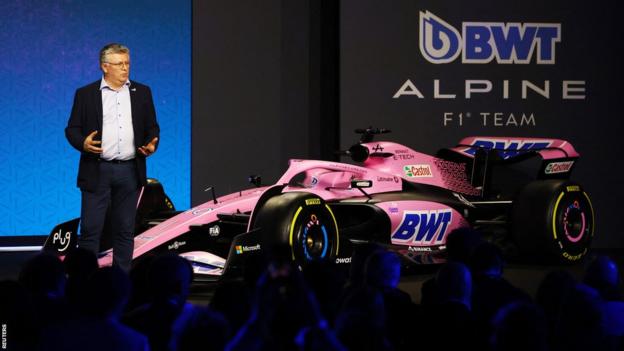 Gasly said moving to an automaker team feels almost like a new career.
"It's such a big step for me," he said, "to close a chapter of nine years at Red Bull and start this new project with Alpine and see everything that's available and all the resources that they have.
"With a manufacturer there is no limit, no upper limit, which in a way I have had in the past."
Gasly started 2019 with Red Bull after an impressive debut season with then-Toro Rosso in 2018 before being demoted at half-time after a difficult half-season.
Both men have won a single race in their careers, in races where circumstances gave the midfield teams they were racing for a chance to take the lead: Gasly in Italy in 2020 and Ocon in Hungary in 2021.
Together they are tasked with continuing Alpine's progress towards the top of the grid.
The team rose from fifth in the constructors' standings in 2021 to fourth in 2022, securing a place at the final race of the season after a close battle with McLaren.
Alpine has set its sights on fighting for a championship by 2025 and this year aims to consolidate fourth place and move closer to the top 3 teams: Red Bull, Ferrari and Mercedes.
Last year they finished 342 points behind Mercedes.
Laurent Rossi, Alpine Chief Executive Officer, said: "When we started the Alpine story two years ago, we knew we were on our way to the summit and it was a marathon, not a sprint. It will take time to get there.
"We gave ourselves five years, that's the 100 race plan. We were fifth in 2021, fourth in 2022, but with quite some distance ahead.
"We want to be fourth again but close, target for all the guys here – and I know they can do it – but this time in a more robust way. More finishes, fewer DNFs, and possibly more podiums too. Momentum is key."
The car was launched in the pink color of the team's titular company, an Austrian water organization. Team boss Otmar Szafnauer said the car would run in Alpine's traditional blue color at most races, but would be pink at "a few" as was the case last year.
Luca de Meo, chief executive officer of parent company Renault, said: "We've made progress over the first two seasons. The team is coming together stronger and stronger so I hope this trend continues, our aim is to get closer to the top. We are here for the long term to build a top team."
Technical Director Matt Harman said that developments on the new car included a revised nose design and a change in the rear suspension concept from link to link rod – with the wishbones now running from the bottom of the wheels to the top of the gearbox mounting point and not the other way around – to save weight and to improve aerodynamics.
He added that the team had been working hard on drive unit reliability at both the chassis factory in Enstone Oxfordshire and the engine factory in Viry-Chatillon near Paris, which cost the team heavily in 2022 with a high number of failures.
Gasly said, "Most of the issues — or all of those issues — should have been resolved this year."
The team also announced the next stage Her program aimed to find a female F1 driverand introduced football legend Zinedine Zidane as a brand ambassador.