Efe Obada is about to eat lunch at NFL Academy tryouts when he stops.
"Wait a minute," he says, looking over his shoulder to see a teenager standing alone at the practice site.
Obada has recalled that Derry, who traveled to Loughborough almost 90 miles south of Leeds for the Test matches, has to kill two hours before heading home and has asked if he would like to join him.
And he doesn't stop there. The Washington Commanders defensive end will give the NFL hopeful the experience of a lifetime.
After lunch, Derry spends an hour lifting weights with Britain's biggest NFL star.
"I told everyone," he later tells BBC Sport. "I'm still buzzing now."
Obada knows what it feels like to be Derry. In his early 20s he took early morning trains to London to train in public parks before working as a security guard.
Now that he has completed his "wonderful" journey into the NFL, the 30-year-old feels he would be "wrong" if he didn't use his platform to inspire others, particularly British youngsters like Derry.
In an exclusive interview, Obada tells the BBC about his difficult upbringing, his ongoing struggle to feel accepted as British and the importance of staying in touch with his Nigerian roots.
"Growing up in foster care means the NFL"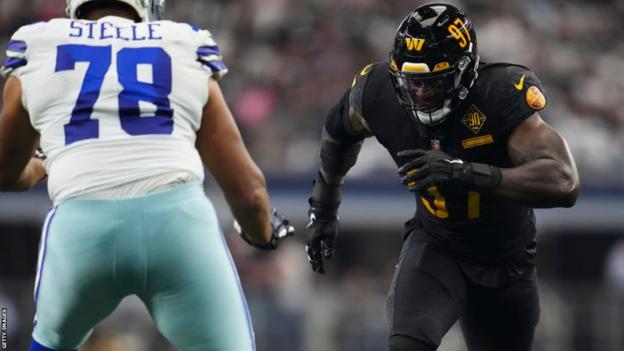 Obada was born in Nigeria and moved to the Netherlands when he was eight years old.
Two years later he and his sister were deported to Great Britain. They were abandoned in London and raised in foster families. Obada believes these experiences prepared him for the ruthless world of the NFL.
He was fired by three teams before making his NFL debut in 2018. At the start of the 2020 season, he was reassigned, fired and re-signed over the course of a weekend.
"The instability and uncertainty of not having a place to call home I think translates," he says. "You can be on one team – and you can be on another in a moment.
"Living out of a suitcase is something I still do, having that global lifestyle and just being comfortable when I'm uncomfortable."
Frustrated with a lack of opportunities, partly because of his immigrant status, the younger Obada was drawn into the gang culture of south London. As he tried to establish himself in the NFL, he felt like he was "running away" from that past.
"I was an immigrant, I couldn't work, I couldn't get an education," he says. "There were only a certain number of options. At some point you will be pulled in a certain direction.
"In my heart I'm not really like that, but your environment turns you into someone else just so you can survive and provide for yourself.
"So, on an opportunity like the NFL, something that big … even when I was on the practice team, I was making really good money to send home. I thought, 'I'm going to stick with it' because I knew what to expect [back in London] and I knew that wasn't what I wanted for myself."
'Until I get a passport I feel Britain won't accept me'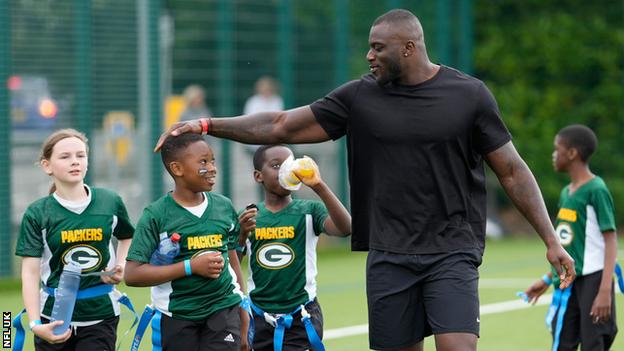 Obada is a longtime supporter of the NFL Academy, Flag Football and the Big Kid Foundation, a London charity.
He is now trying to set up a community training facility in south London but admits he is frustrated at securing a British passport despite flying the British flag on one of world sport's biggest stages.
"I was in a foster family and when I was a minor they were supposed to handle my immigration and paperwork for me, but I fell through the cracks," he says.
"I've gotten old, the rules have changed and unfortunately I couldn't come [a passport]. I'm still struggling to get it and while I feel British, I feel like it's a country that doesn't accept me.
"It hurts a bit, but those are the crosses and hurdles I have to carry and overcome. I have a lot of empathy because I grew up with people who were in similar situations and are still in similar situations.
"They probably have more of a right to be in the country than I do because they've been here for so many years but are still struggling, having to go through solicitors and adapt to the rules and changes in the UK.
"I'm blessed to have the ability to go in and out [of the UK] as I wish, but it is only this vague inability to call England home and be recognized as a British citizen. Hopefully I can sort it out and it will just be a part of my life that's behind me."
"I had imposter syndrome, it's gone now"
Still concerned about his past, Obada supports mental health charity Mind after finding the courage to speak to a therapist last year.
"I felt like it was affecting my life and relationships, and I wanted to fix that," he says. "I've seen the change from therapy, how impactful it has been for me in terms of how I treat people, how I see the world, my confidence when I play, how I deal with childhood issues.
"In the NFL, in African communities, in many homes – [opening up] is very taboo, especially as a man. It's like 'just keep going'. There's always that mindset, 'Oh, someone else has it worse'. I felt guilty about being an NFL player – what do I have to complain about?
"But [I realised] I have this platform and that I am not alone. I need to talk about it and give people the courage to educate themselves about the tools that are helping them because it's a huge thing."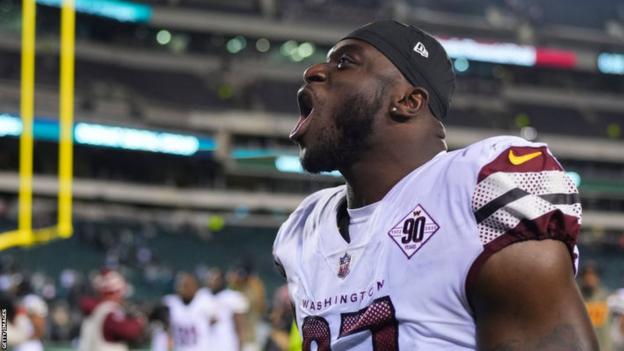 Obada even opened up to his Washington teammates, which he says has made him "100% a better player" as he looks forward to playing a sixth active season in the NFL.
"I was terrified," he says. "I didn't know how it was going to be received, I felt so exposed and vulnerable. But this process of sharing my story, my life, my experiences has been so therapeutic.
"It also created a platform for people to share their experiences and their journey, and that's been great.
"I learned so much about my teammates. I was able to connect on a deeper level and it definitely made me more confident. It has strengthened my confidence in my abilities and my origins.
"Initially I had impostor syndrome and I feel like that's over. I've accepted who I am as a person and I've kind of broken away from my past and my inner voice.
"When I go negative, I now have the tools and awareness to understand, 'OK, I feel this way,' rather than catastrophizing or getting into a certain place like I used to."