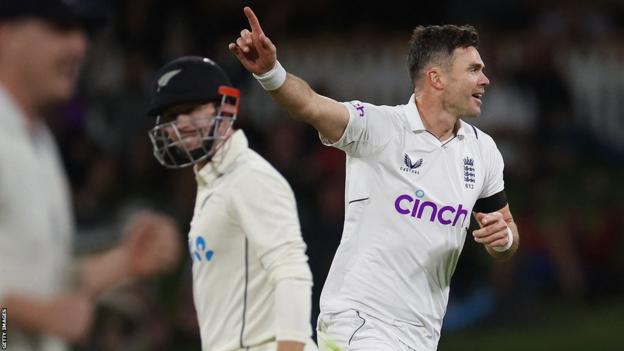 England 325-9 Dec:
Bach 89, Duckett 84; Wagner 4-82
New Zealand 37-3:
Anderson 2-10
New Zealand Trail with 288 runs
scorecard
England's decision to declare to 325-9 was confirmed by three late wickets on day one of the first day-night test against New Zealand at Mount Maunganui.
Ollie Robinson had caught Tom Latham on the short leg, then James Anderson had caught Kane Williamson lbw and caught Henry Nicholls on the second slip to leave the Black Caps 37-3, 288 down.
England wanted to bowl the pink ball under floodlights and his declaration after 58.2 overs was the second earliest in the first innings of a match in Test cricket history.
After the tourists were called on to bat, opener Ben Duckett struck a flowing 84 from 68 in the first session and Harry Brook cemented his fast-growing reputation with a great 89 from 81.
At other times, England's desire to be aggressive gave way to carelessness. They lost three wickets for 37 runs early in the day, while a recent slip of 4-27 triggered the declaration, leaving Tempo bowler Neil Wagner 4-82.
The field is looking good for batting and the ball moved the most in the night session – New Zealand might have been well placed to bat during the day on Friday had England not been so incisive late in the day.
Instead, England took the upper hand with nine wins in their last 10 Tests.
England Late Show leaves them on top
This was an intriguing first day in a stunning venue made all the more intriguing by the contrasting styles of the two teams and the added layer of complexity brought by the pink ball.
New Zealand will have been content with their decision to go first, having worked their way through the visitors' power with an attack featuring debutants Blair Tickner and Scott Kuggeleijn, only for England to overtake the hosts with late goals.
Things could have gone even better for England. Almost all of her thugs were complicit in her own downfall, with hits ranging from casual to ruthless.
It's a hyper-aggressive style that has given England its recent success. Enjoying thrilling victories means accepting the times when the cavalier approach doesn't work. Still, England probably should have continued to concede against the inexperienced home bowling crew.
The declaration in the floodlit closing session was not unexpected – captains less innovative than Ben Stokes have taken similar steps in previous day-night tests.
From there England were great with the ball and would have had a fourth wicket had Zak Crawley not dropped Devon Conway from Anderson.
Duckett & Brook show their class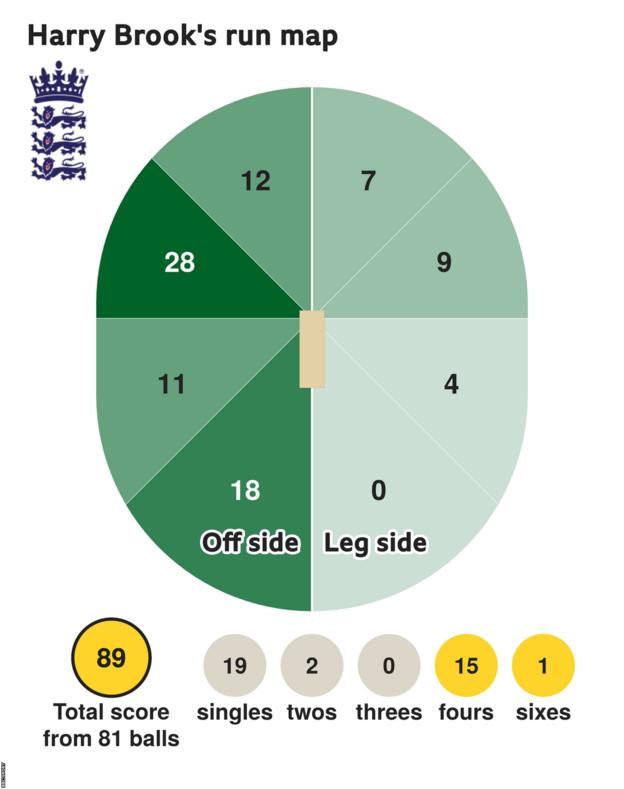 With the injured Jonny Bairstow waiting in the wings, England's top seven know one of them will soon be missing.
On a day when the rest perished trying to force the goal, Duckett and Brook showed their class, both flirting with Gilbert Jessop's 121-year-old record for England's fastest Test hundred – 76 balls – which is sure to fall soon.
In his first Test outside of Asia, Duckett played sweet drives and whips off his pads. He could have had a hundred in the first session but ducked for cover to give Tickner his maiden scalp.
Brook looks like a superstar in wait. With England 154-4, he started calmly, taking 11 of his first 17 balls. When he got into gear, he hit 65 of his next 39.
When New Zealand tried to stay away from Brooks' strong play with his legs, he simply stroked the ball through, usually with powerful slashes. A six over long out home captain Tim Southee was imperious.
Brook was on course for a fourth hundred in as many Tests – only Ken Barrington has achieved that feat before for England – until falling victim to Wagner's bumper fire. A bottom edge hit the ground, then bounced off the stumps after hitting Brook, triggering the start of England's final slide.
All action at the Bay Oval
Even in the context of England's free-running approach to Test cricket, some of their dismissals have been bad.
Crawley was dropped, deflecting a no-ball and eventually coming on the second slip in the space of 14 balls, Ollie Pope chased a wide to go out for 42, both ahead of Southee, and Stokes chopped a bouncer in the middle of the wicket, to give Kuggeleijn his first Test wicket.
The ugliest belonged to Joe Root, who developed a fondness for reverse scooping pace bowlers. He had already done this successfully in front of Wagner, but a second attempt ended in the hands of a wide slip.
If hitting was occasionally sloppy, bowling was anything but. Anderson, Robinson and Stuart Broad were relentless in their control and maximizing helpful conditions.
Latham pushed inside onto his pad by Robinson and was caught in the short leg by Pope, and when Anderson brought one back into Williamson's pad, review showed he hit the leg stump.
Crawley's bad day continued when he missed a regular chance for Conway, but he at least made it up to him by sticking with Nicholls.
Wagner, who put his heart into the ball, was sent out as a night watchman and survived alongside Conway, who is 18 and is not failing.
'Breathtaking Stuff' – Reaction
England batsman Harry Brook talks about BT Sport: "We weren't told to go out there and play like that, we're just trying to put as much pressure on the bowlers and clear away the bad balls as much as we can. It is filtered through the entire team.
"We were lucky in the draw but we declared at a good time to throw as many overs as we could under the lights.
Former England captain Sir Alastair Cook on BT Sport: "England just weren't missing, James Anderson was spectacular.
"That's why we love Test cricket so much – to see how England deal with their batting and attacking where New Zealand just needed to soak up the pressure. It was compelling stuff."
England all-rounder Chris Woakes on BT Sport: "An incredible day for England. It would have been interesting to see what Ben Stokes would have done in the draw because they had the best conditions all day how it worked out.
"Don't take anything away from England, they had a great day and the way they bowled at the end made it their day."