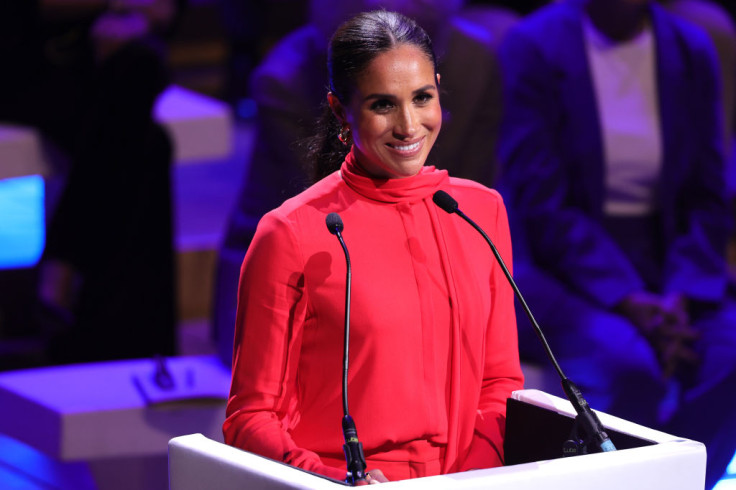 IMPORTANT POINTS
Meghan Markle previously said she didn't know much about the royal family before meeting Prince Harry
Markle reportedly discussed Prince William and Kate Middleton's wedding on her blog, The Tig, in 2014
The Duchess of Sussex reportedly wrote that she was tired of hearing the "endless conversations" surrounding the wedding
Meghan Markle reportedly reacted to Prince William and Kate Middleton's royal wedding two years before she met Prince Harry.
Markle previously said in her 2017 engagement interview that she "didn't know much" about the British royal family before meeting now-husband Prince Harry in 2016.
However, a 2014 blog post from Markle's now-defunct lifestyle website The Tig is said to have resurfaced recently, revealing her not-so-complimentary commentary on the 2011 wedding of the Prince and Princess of Wales, Page Six reported. International Business Times has not been able to independently verify this information.
In the alleged post, which is said to have been written while the former actress, 41, was on Suits, Markle reportedly shared her feelings about princesses and royal weddings.
She reportedly wrote to the Daily Mail that she was tired of hearing the "endless conversations" surrounding "Princess Kate's" wedding to Prince William.
The Horrible Bosses actress reportedly wrote that unlike most little girls who "dream of being princesses," she wanted to be "She-Ra, Princess of Power" instead.
"For those of you unfamiliar with the '80s cartoon reference, She-Ra is He-Man's twin sister and a sword-wielding royal rebel known for her strength," Markle reportedly wrote. "We're definitely not talking about Cinderella here."
She continued, "Grown women seem to retain that childhood fantasy. Just look at the pomp and circumstance surrounding the royal wedding and the endless conversations about Princess Kate."
Markle's allegedly resurfaced comments received mixed reactions from social media users. Some questioned her previous statement that she had little knowledge of the royal family before dating Prince Harry.
"But I thought she knew nothing about the royal family before she met Harry. Liars must have really good memories," said one Twitter user wrote.
"Meghan Markle is consumed with jealousy and will do anything to stay in the media. It will eventually be her undoing," another claims.
"I'm not surprised that Meghan made a nasty comment about Catherine and William's wedding. I agree with one of the other tweeters that you have to have a damn good memory to be a liar. Meghan has nothing else!" a third commenter called.
But others came to the Duchess of Sussex's defense, insisting she was misunderstood.
"A prime example of the UK media twisting someone's words to suit their own agenda. Leave the woman alone," said one user wrote.
Other tweeted"For God's sake leave her alone."
Two years after tying the knot, Markle and Prince Harry stepped down from their roles as working royals and relocated to California, where they now live with their 3-year-old son Archie and their 1-year-old daughter Lilibet.
Prince Harry opened up about his wife and sister-in-law's relationship in his recently released memoir, Spare.
He claimed Middleton made Markle cry after the Princess of Wales allegedly demanded that her daughter Princess Charlotte's bridesmaid dress be remade days before the Sussexes' wedding in 2018.
Prince Harry also claimed Middleton grimaced when his wife once asked to borrow her lip gloss.