King Charles was met with protests of "Not my King!" during his engagement on Thursday in Milton Keynes, England.
Around 20 protesters from the anti-monarchy group Republic turned up to greet Charles on his tour of the city. Some of the protesters carried signs that read "Not My King" and "Not Fit For Purpose".
Republic CEO Graham Smith was in attendance.
"The Republic is concerned by recent police harassment of peaceful protesters at royal events," Smith said in a press release sent out shortly after the protest. "We're committed to getting the message across that it's okay to protest the royals."
Smith emailed HuffPost Thursday that police were "doing fine" with the protesters, as the Republic had informed them of their expected appearance a few days earlier.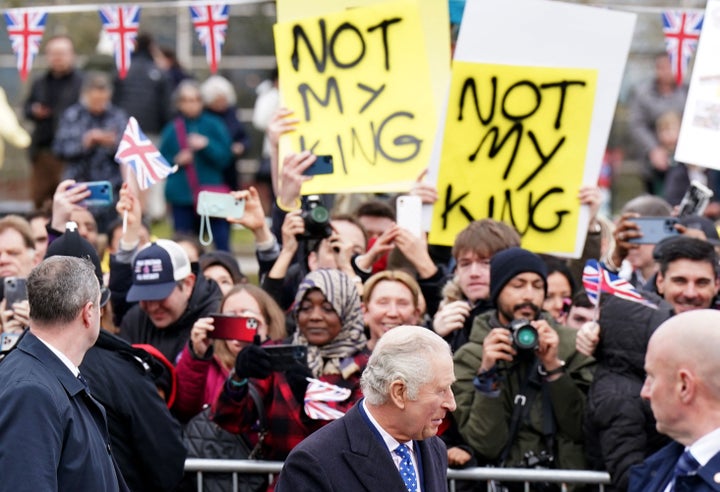 Smith said the group received attention from others in the crowd and that "a few people argued with us" and one was particularly "rude," but others were interested and mostly good-natured.
He told HuffPost the group plans to hold another protest when Charles and Camilla visit York on April 6, exactly a month before the coronation.
"We will do others, but we won't know what until we have details of engagements," he added.
Amid the boos and signs on Thursday, supporters of the king also cheered and chanted "God save the king" at the engagement, The Telegraph reported.
The city of Milton Keyes also said in a statement on its website that people gave "His Majesty the King a very warm welcome" and that the monarch was greeted by "joyful crowds".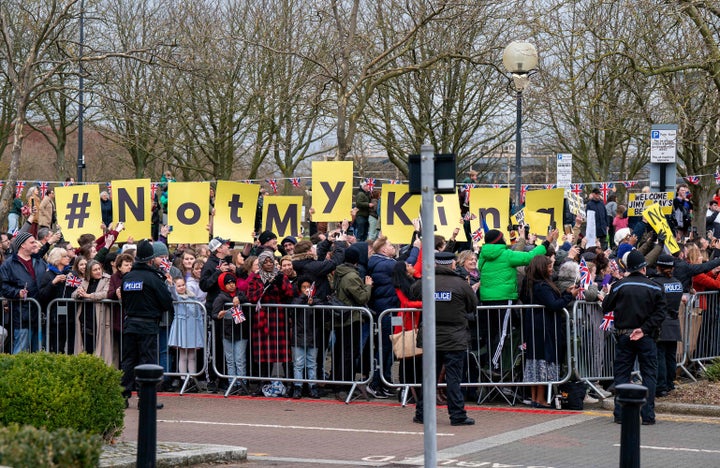 The monarch was there without his wife Camilla, who Buckingham Palace tested positive for COVID-19 earlier this week.
Last week, a protester was present with a blank sheet of paper at Prince William and Kate Middleton's walkabout in Cornwall.
Matt Wilkinson, royal editor of The Sun, captured footage of the protester and tweeted that he was "held by police until the prince and princess left".
The protests follow two incidents last year in which protesters threw eggs at Charles and Camilla in November, followed by another egg toss aimed only at the king in December.