At the end of each Premier League round, BBC football expert Garth Crooks is on hand to introduce his team of the week.
But who did he choose this time? Take a look, then choose your own team below. As always, Garth also has his say on the game's big talking points in The Crooks of the Matter.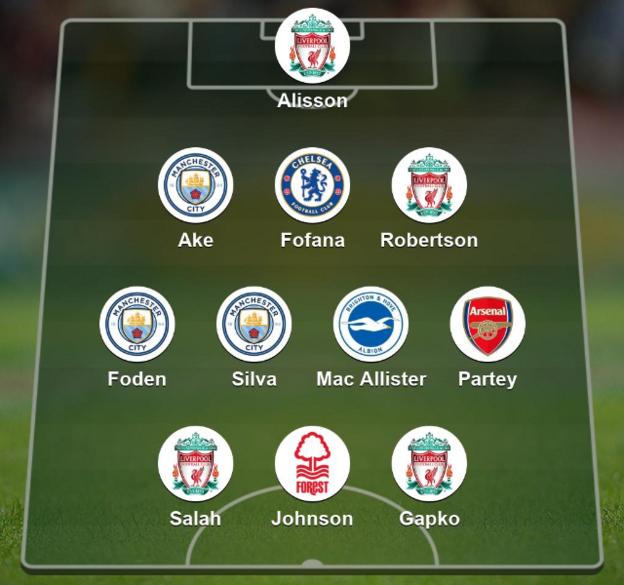 Alison (Liverpool)
I don't think I've seen such a surrender. Manchester United had a complete meltdown. Last week I said United looked like a proper football team again after the EFL Cup win over Newcastle but a 7-0 loss to Liverpool will live with this group of United players for a lifetime.
Liverpool, on the other hand, were as determined to keep a clean sheet as they were to score. Alisson will be just as excited as his forwards for not giving United a chance. The goal conceded will have put the icing on the result for Liverpool.

Nathan Ake (Manchester City)
I remember seeing this boy as an 18-year-old playing for Chelsea Under-21s before being loaned out to Watford and then Bournemouth. Ake was particularly impressive at Bournemouth, where he not only improved as a player but was willing to use his intelligence and understanding of the game to address the South West Club's defensive weaknesses.
At no point when I played for those clubs did I imagine that the Netherlands international would become the accomplished defender he is today. To say he worked on his game would be an understatement. Ake is a great defender and his tackle against Sean Longstaff, who took a little too long to save his shot for Newcastle, was superb.
If only there were more English youngsters willing to work slavishly at their game and less interference from parents, maybe we would start creating more defenders like Ake.
Wesley Fofana (Chelsea)
It's so difficult for Chelsea these days to get a forward to score in open play. It took France defender Fofana to score, and that from a set piece. Not that there's anything wrong with relying on set pieces – it just suggests your team is struggling to score from open games.
Luckily for Chelsea, Fofana came back from injury as Thiago Silva injured his. However, Fofana is in the team just in time to face Borussia Dortmund in the Champions League on Tuesday night.
Owner Todd Boehly insists he will stay with Graham Potter and make his plan a reality. To plan? What plan? If he has any sense, he'll do exactly what his fans end up telling him to do about Potter and like it. Otherwise it will be his name they sing, and it will not be pleasant.
Andy Robertson (Liverpool)
There was a time when Robertson came to my team on an almost weekly basis. Ever since Liverpool felt like they could win it all, they've gone through a difficult period and have had to work hard to get back to their best form.
His constant attacks down Manchester United's right flank, his precision passing and quality balls into the penalty area made you think for a moment he'd never lost his composure. I don't know who said you don't become a bad player overnight, but whoever it was, they were right.

Bernardo Silva (Manchester City)
The Portugal international is unlucky not to start more games for Manchester City. Silva has been quite brilliant whenever he has played for City while apparently yet to prove himself to manager Pep Guardiola. He does what Jack Grealish doesn't do, at least on a regular basis, and that's scoring goals.
Silva's post-game comments were also very interesting. Unlike his manager who insists they only care about their own results, Silva was quick to point out they care deeply about Arsenal and are aware the Gunners are five points clear. Every slip from City and its curtains.
Alexis MacAllister (Brighton)
His penalty was emphatic and his performance angered West Ham throughout the afternoon. The Argentina international has been in brilliant form since returning from a successful World Cup. However, based on this portrayal, West Ham look in poor shape.
This was their heaviest defeat of the season and they weren't much better in the midweek FA Cup game against Manchester United either. If Hammers had beaten United they would have access to a quarter-final home game against Fulham and give their fans the prospect of a possible semi-final and something to look forward to.
This latest loss only serves to make life even more distressing for David Moyes, while hearing her fans chant "You'll be fired in the morning" puts the writing clearly on the wall. At least he knows where he is.
Thomas Partey (Arsenal)
At the moment everything Arsenal touches turns to gold. Granit Xhaka misses his first Premier League game of the season just as Partey returns to the side from injury and has the game of his life.
The Ghana international brought Arsenal back into the game after a poor start. It was also his persistence and drive on the edge of the Bournemouth penalty area that allowed Ben White to equalize – the English defender's first goal for the club.
Mikel Arteta could be the youngest manager to ever win the Premier League title – as if winning the thing wasn't enough.
Phil Foden (Manchester City)
Three goals in the last three games should tell you everything you need to know about Foden's current form. Whatever happened to his confidence during the World Cup with England in Qatar seems to be over for good.
However, Foden may want to think long and hard about future invitations to join the England squad if Gareth Southgate insists the Manchester City midfielder might be good enough for City, the holders, but not for him.
Against Newcastle, Foden again showed a performance similar to that before the World Cup. Only this time there is no England squad to mess with their confidence.

Brennan Johnson (Nottingham Forest)
The last time Johnson made my team pick he also scored twice and picked up valuable points for Nottingham Forest. This time it was against an Everton side who were also in desperate need of points.
When he first came to my team I said he was a very willing player who had previously struggled in front of goal. Well, three months have passed since then and the way he played his second game against Everton he doesn't seem to be struggling in front of goal anymore.
This is a young man who has clearly been working at his craft and who, along with Morgan Gibbs-White, is taking Forest to a much safer place than when he first arrived.
Cody Gakpo (Liverpool)
Since Sadio Mane's departure to Bayern Munich, Liverpool fans have waited patiently for a replacement to take on. I think Gakpo could be that player. The former PSV striker has seamlessly settled into his role at Anfield in a matter of weeks.
He is confident in front of goal and a team player – both very much in the spirit of Mane. There has been a lot of talk about where Liverpool currently stand as a team and whether they might be on the back foot. Well, not at this performance.
United have been pulled out of Liverpool and there are only two things stopping Liverpool from becoming a major European force again: their names are Jude Bellingham and Declan Rice.
Mohammed Salah (Liverpool)
It's been a long time since Salah was included in my team but after his performance against Manchester United it was impossible to leave him out. It was like suddenly turning back the years.
Becoming Liverpool's top scorer in the Premier League is a nice stat, but I'm not entirely surprised given how much he enjoys scoring goals.


The crooks of the thing
Anyone who supports a London team, as well as countless others who have seen video footage of Ian Wright hysterically celebrating Arsenal's last-minute win over Bournemouth, must have felt the pain we all feel.
Wrighty's celebration in the Green Room of the Match of the Day epitomized how much the prospect of winning the Premier League title means to him and to every single Arsenal fan on the planet.
I've had Arsenal fans from Nigeria and Dubai sending me copies of the footage in the middle of the night – which punished me, mostly because of my connection with Spurs as they know how deep the rivalry runs between the two clubs.
My problem is: do the current group of Tottenham players or the manager have any idea what Spurs fans are going through right now?
With every goal and celebration of victory, Arsenal moves closer to an elusive Premier League title. Meanwhile, the prospect of them winning this thing is becoming unbearable. Is there no one who can save us from this eternal torment?
Choose your XI from our list and share it with your friends.