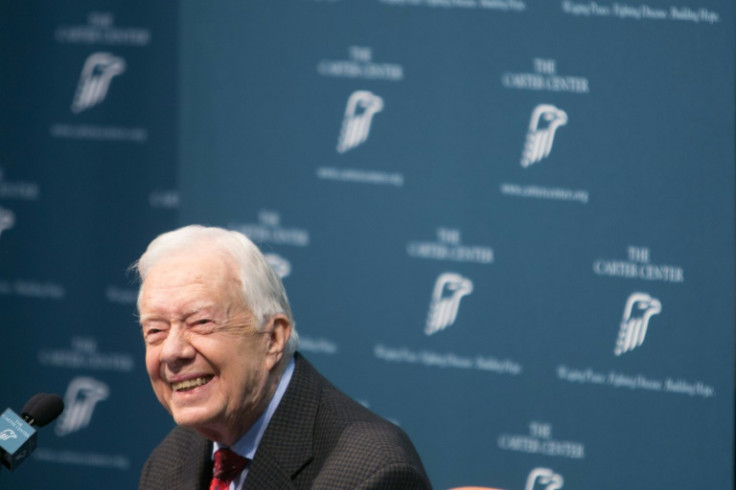 Jimmy Carter, the 98-year-old former US president who led the nation from 1977 to 1981, is receiving hospice care at home, where he will spend his "remaining time," his charitable foundation said Saturday.
Carter, the oldest living former president and Nobel Peace Prize laureate, resides in Plains, Georgia with his wife Rosalynn.
In this hamlet he was born and worked as a peanut farmer before becoming governor and later starting his presidential bid as the Democratic candidate.
"After a series of brief hospitalizations, former US President Jimmy Carter today decided to spend the rest of his time at home with his family and receive hospice care in lieu of additional medical procedures," the Carter Center said in a statement published on Twitter.
During his presidency, Carter was committed to human rights and social justice and enjoyed a strong first two years brokering a peace agreement between Israel and Egypt, dubbed the Camp David Accords.
But his administration encountered numerous obstacles – the most serious being the US hostage situation in Iran and the disastrous failed attempt to rescue the 52 captured Americans in 1980.
In November of that year, he was ousted for just one term when he lost the election to Republican challenger Ronald Reagan, who had swept into office on a wave of staunch social conservatism.
A more nuanced picture of Carter has emerged over the years, taking into account his activities after the presidency and reassessing his accomplishments.
He founded the Carter Center in 1982 to pursue his vision of world diplomacy and was awarded the Nobel Peace Prize in 2002 for his tireless efforts to promote social and economic justice.
"The Carter family requests privacy during this time and is grateful for the concern of its many admirers," the Carter Center said.
"He has the full support of his family and medical team," he added.
Carter said basic Christian principles like justice and love were the bedrock of his presidency, and the ex-president taught Sunday school at Maranatha Baptist, his church in Plains, well into his 90s.
In recent years, Carter has received various hospital treatments, including when he announced in August 2015 that he had a brain tumor and was undergoing radiation treatment – a disease from which he seemingly recovered against all odds.
Carter's grandson Jason Carter, a former Georgia state senator, tweeted that he saw "both my grandparents yesterday."
"They are at peace and – as always – their home is full of love. Thank you all for your kind words," he said.