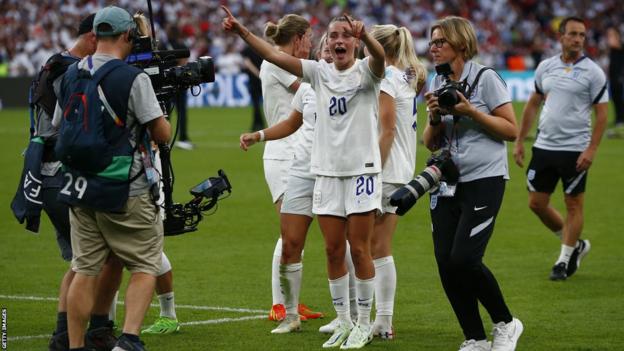 After scoring one of the most important goals in English football history, Ella Toone made a surprising admission – she was 'burned out' from not wearing her eyelash extensions.
Toone, who scored the opener in England's Euro 2022 final win over Germany with a great chip finish, has played a huge role in exploding popularity and attention for women's football in recent months.
But the Manchester United midfielder doesn't want to let that extra attention stop her from looking the way she wants either.
Other players have spoken out about feeling judged more on their looks than their footballing talent. Aston Villa midfielder Alisha Lehmann was among those who expressed disappointment being judged more for their Instagram output than their on-pitch performances.
But Toone, 23, says she's proud to prove there doesn't have to be a choice when it comes to fake eyelashes or football.
"I think it's good that young girls can now look up to women like us," she told BBC Sport.
"I love getting my eyelashes done, my nails done. I always say you feel good, you look good, you play good.
"I can still go out and play football. There shouldn't be any stigma on how you look or dress."
Another aspect of women's football in England is the strong bond between players and fans – but a side effect of the growth of women's football is the risk of losing that interaction.
Toone is less able to stop for selfies and sign shirts when they play at Old Trafford compared to games at Leigh Sports Village.
"Women's football is very different, we have so much more contact with the fans," says Toone. "The stadiums are usually a lot smaller, so we're used to seeing everyone, signing shirts and taking photos, interacting with everyone.
"If it continues to grow, it will no longer be sustainable. It's about finding different ways to connect."
Toone appears to have done just that on social media, where she entertains her 265,000 TikTok followers with rap battles and hilarious phone calls to her grandma. But she doesn't let that distract her from her professional ambitions.
"Football always comes first and I want to be remembered as a good footballer. If people connect with me outside of football, that's fine too."
"We now have a big goal on our backs"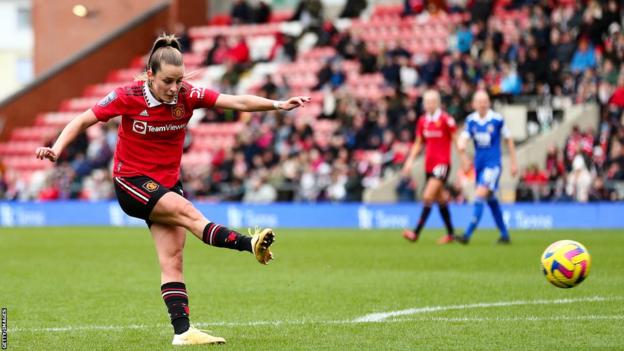 No wonder Toone wants to focus on football as her club Manchester United are now firmly in the hunt for their first Women's Super League title.
The Tyldesley-born player first joined United at the age of eight before departing six years later in the absence of a women's senior team.
When United finally formed a women's team and moved into the league in 2018, Toone was part of the original squad and she was a fixture in their rise from the second tier to the top of the WSL.
"We've been building for five years now," she says. "We want to perform well every weekend. We have strengthened very well, our depth is the best ever. It's really exciting.
"It was nice to be here from the start.
In the summer, focus will turn to the World Cup, where England will play Haiti on July 22 in Brisbane.
Since her historic Euros win last summer, life as a lioness has brought added pressure and expectations.
"It has changed massively. A lot more people recognize me now," says Toone. "But that means that more people recognize us. I try to keep up with everything.
"We now have a big goal in mind. This is the print we love. We go into every game wanting to do what we love – make the nation proud."