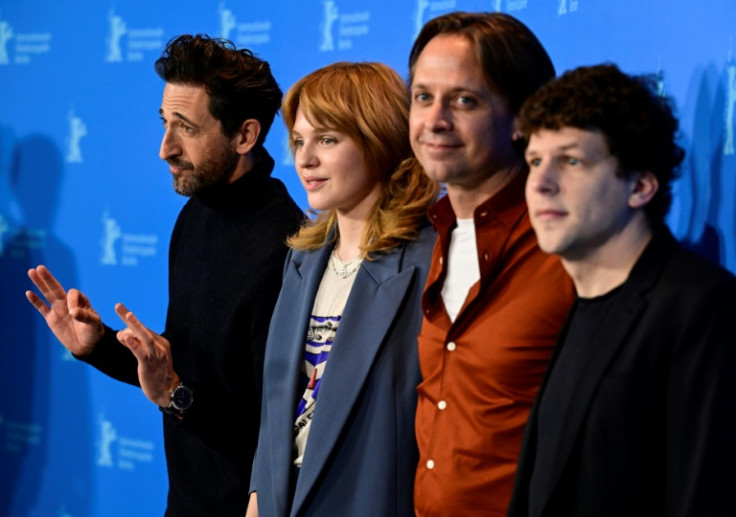 Hollywood actors Jesse Eisenberg and Adrien Brody play American men caught in a global crisis of masculinity in "Manodrome," which premieres at the Berlin Film Festival on Saturday.
South African director John Trengrove's thriller is one of the most eagerly awaited of 19 feature films vying for the Golden Bear top prize, to be presented by Jury President Kristen Stewart on February 25.
"Manodrome" stars Brody as "Dad Dan," a cult leader who persuades desperate men, often losers to US capitalism, to sever ties with the women in their lives.
Eisenberg, who rose to fame as Facebook founder Mark Zuckerberg on The Social Network, is hardly recognizable as pumped-up amateur bodybuilder Ralphie.
When he loses his job at the factory and struggles to support himself and his pregnant girlfriend, Ralphie succumbs to Dan's suggestion that he join the "Manodrome" – a male-only section of his home.
Trengrove, who made a splash with the 2017 male initiation film The Ritual and describes himself as queer, said such groups of men walk around in a world he said is "underfounded."
"I think a big crisis we're facing now is men … don't learn or acquire basic life skills, how to manage feelings and emotions," he told reporters.
"You have grown men in the world who have the inner resources of little boys and then have to hide that and overcompensate with hyperaggression."
Dan fatefully offers Ralphie a gun to make him feel less vulnerable, which Eisenberg says is a typical response to feelings of insecurity in America, where mass shootings are perpetually carried out by isolated men.
"As an American reading a script about this kind of spiral based on dangerous notions of masculinity, it seemed like a very logical progression to gun violence," he said.
"But I suppose because the festival is an international audience," he said, "it's going to play as something particularly American."
Brody, who won an Oscar for his role in Roman Polanski's Holocaust drama The Pianist, said men, both online and in the real world, are often sold a distorted and destructive picture of how they should be.
"Beyond addressing masculinity or very obvious issues within society as a whole, it's really about[the film]separating what we actually know to be truth and what we're bombarded with, which becomes truth," he said.
"All of our collective doubts and past traumas and unresolved issues" are creating "these broken lives around the world — the impact is endless," he added.
Trengrove said he wanted to explore the "shame and powerlessness" of men struggling in the US economy.
"I'm generally only interested in the class struggle and how people are products of their socio-economic background," he said.
"Sometimes I feel like American films can kind of resist talking about these things."
The Berlin Film Festival runs until February 26th.