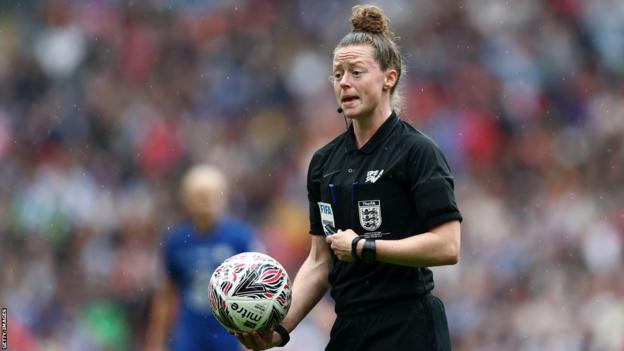 Venue:
Selhurst Park
Date:
Sunday March 5th
Time:
15:00 GMT
Cover:
Watch live on BBC One, BBC iPlayer and BBC Sport website & app; Live text commentary on the BBC Sport website and app
When she started nine years ago, Kirsty Dowle never imagined refereeing a League Cup final as working as a railroad referee as a 'casual hobby'.
But that's exactly what she'll do on Sunday when she officiates the Continental Cup final between Chelsea and Arsenal at Selhurst Park.
"It's crazy now to think that I started nine years ago just because I love football and wanted to keep at it and now it's my career and it takes me everywhere," she told BBC Sport.
A football fanatic since the age of six, Dowle, who also refereed last year's FA Cup final, played at county level until he was 16.
"At six I reached the climax of the best decision of my life and started playing football, fell in love from the moment I kicked a ball and that was it, that was all it ever was, all that I knew," she said.
After deciding to pursue an academic education, she retired from the game and only considered office when she completed a Masters in Sports Psychology.
"To this day I don't know why, but I decided to do my dissertation on refereeing," added Dowle.
"I'd never paid them interest before, but I interviewed about eight umpires and they all seemed so passionate about it, and two of them said, 'Why don't you get involved?'
"A few months later I booked myself into the course and have never looked back."
How does it feel to referee a cup final?
"Amazing," said Dowle. "After I found out, I was in the car on the way home and I just turned the music up and sang really badly and imagined what the day was going to be like."
"I will never forget my first game"
Like most officials, Dowle started at the bottom and worked his way up, but she will "never forget" her first game.
"A colleague I worked with on the railroad was also a referee and he said, 'You can borrow my dad's equipment for your game,'" she explained.
"I'm not very tall and I was wearing this men's outfit that was absolutely attached to me. But I thought 'that's cool, I can get involved'."
Dowle progressed quickly and was soon officiating Sunday League Football.
"One of the teams in my first game was called the Young Boys and I remember saying to my mum, 'Great, they're letting me in, they're going to be 16, it's going to be nice,'" she joked.
"They weren't boys, and they wanted to fight!"
"Something had to give"
Dowle only committed to working full-time as a referee earlier this year, after nine years of balancing it with her job with the railroad.
"In the beginning it was just a normal hobby," she says. "But by the time you reach level four you'll be much better tailored by the FA, so there's meetings and support for you.
"I realized that I was at the crucial point, 'There's only so much I can give now.' I got up at five and went to work and training and games."
If a decision had to be made, Dowle knew the referee would be the winner.
She said, "Something had to give up and I didn't want to put in the effort and then in a few years' time I'd regret it – 'if only I had taken that risk?'
"Now that I've quit my job, I see the benefits of getting a good night's sleep, having the time to do small things like preparing my meals, working out once or twice a day, learning the knowledge of the game, Things like watching games and talking to coaches.
"Now I know that I can sleep eight hours a night, it's quite a luxury."
"I try not to take it to heart"
Referees are notoriously pressured and pressured, and Dowle said dealing with mistakes never gets easier.
"It's really tough, when you make a mistake and you know you've changed a game and you can't change that, it's really hard to get over it and that's what players, managers and coaches don't understand – that we Humans are too," she said.
"I don't go out there to make a mistake, I want it to be perfect, but when I make a mistake I analyze it too much, I look at it – sometimes I can't sleep because I'm like 'if I would only do it differently'.
"We take it to heart. I don't think it gets easier with experience, but you break it down and get that process to make sure it doesn't happen again."
When they came through the ranks with the Kent FA there weren't many female referees and Dowle says it was a challenge when she showed up with men.
"For me, showing up in a game and saying 'right, I'm responsible for this' was a bit like 'OK, that's different', but I'd like to think that at the end of those 90 minutes, I'm like, 'I'm the same as every other referee – I've earned their respect," she added.
"There have been challenges and comments are still being made, but I know I'll get out there and people will have their say – I'm just trying not to take that to heart."