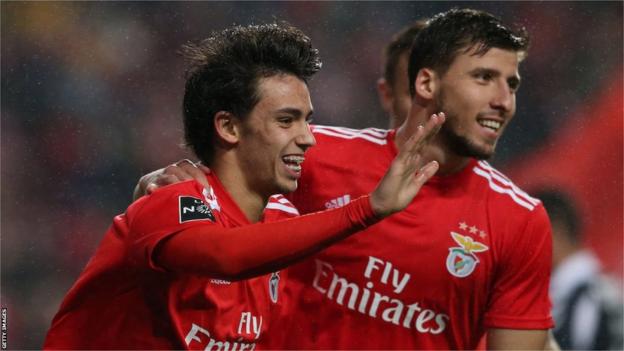 By their own high standards, Benfica are in a silverware drought, most recently winning the Portuguese league title in 2019. But according to Pedro Mil-Homens, it feels like their trophy cabinet is about to explode.
As director of Benfica's youth academy, Mil-Homens doesn't have to worry about beating rivals Porto or Sporting or advancing in the Champions League. His main concern is to ensure the club produces the best young talent in Portugal.
This season, Benfica's side have three players who have passed through those doors: top scorer Goncalo Ramos, who scored a World Cup hat-trick last year for Portugal against Switzerland; Portugal defender Antonio Silva and midfielder Florentino.
The trio are helping propel Benfica to the league title and they are on course to reach the quarter-finals of the Champions League as they lead 2-0 at home to Club Brugge ahead of Tuesday's round of 16 second leg.
"We all love to win trophies, but our real trophies, the important ones, are our Florentino, our Antonio Silva and our Goncalo Ramos in the first team," says Mil-Homens.
"Not only reaching the team, but showing the quality and ability to stay there for a long time. To be able to show that they are ready, that they have the quality, the mentality and the performance to be on this To be level. If everything happens that way I can relax on the sofa and say that we have accomplished our mission."
Benfica's academy has another goal Mil-Homens does not shy away from: producing players the club can sell dearly to fund transfers for experienced players.
Last year, the CIES Football Observatory declared Benfica's academy the most profitable in the world, with revenues of €379m (£336m) since 2015. Real Madrid came second with €330m and Monaco with €285m third place.
In 2019, Benfica sold Joao Felix, who had just one full season in the first team, to Atletico Madrid for a club-record £115m.
A year later they pocketed £65million for the sale of Ruben Dias, who joined the club aged 13. to Manchester City.
Dias has three more Benfica alumni than his City teammates – goalkeeper Ederson, Bernardo Silva and Joao Cancelo, who joined Bayern Munich on loan in January.
Homegrown players are just one aspect of Benfica's money-printing, which has generated an estimated £1.14bn in transfer sales over the past decade.
A huge network of scouts also help them track down players when they show up.
Enzo Fernandez, who came to Chelsea for a Premier League record £106m in January, was signed from River Plate last summer for just £15m. Then there's Darwin Nunez, who joined in 2020 for £21million and was in 2022 sold to Liverpool for 85 million pounds.
"We have to be as active as possible"
One of the key factors in the success of the Benfica academy is to get the youth immersed in the club's culture as quickly as possible. Last season, 70% of players signed by the academy were between the ages of six and twelve.
To further strengthen youth development, Benfica opened four additional academies across the country in 2008 to allow players to become part of the club without having to move to Lisbon with their families.
This means Benfica compete with other top clubs Braga and Porto for the best young talents in northern Portugal.
Ramos and Silva both came through talent centers outside of the capital.
"In the greater Lisbon area we have two million people and that's not enough in terms of catchment area, so we're trying to be as active as possible across the country," explains Mil-Homens.
"Having them over a long period of time gives us the opportunity to transmit the club's culture."
Competitive reserve teams 'a huge advantage'
When it comes to producing the best youngsters, Benfica and other Portuguese giants also have a weapon that Premier League clubs don't have: the ability to bleed youngsters into their reserve teams in the highly competitive second division environment.
While Premier League clubs have to loan out their youngsters to give them professional experience, Benfica's youngsters can struggle in the second tier with the B team while still training with the first team.
It is common for players to play for the under-19 team in the youth league, the B team in the second division and the first team in the same season, all vying for the league title.
"It's a huge advantage," says Mil-Homens.
"We try to match the level of training to the potential of the player we have in our hands, otherwise it would be a waste of their time.
"The players like it because they feel like they're competing and training in an environment that offers them more than if they stayed at their age group."
"Mentality makes the difference"
Benfica equip players with the tools to succeed, but few remain in the first team or find success in Europe's top leagues.
Since Mil-Homens joined the club, two players in particular have stood out – Dias and Joao Felix.
But it certainly won't be long before Ramos and Silva follow the paths of Joao Felix and Dias to Europe's elite clubs to play for stunning transfer fees.
Mil-Homens would like to see some players stay a little longer than the one full season Joao Felix had, but has no illusions that the academy players who grew up at the club will spend most of their careers elsewhere .
"The perfect condition would be that we have the player in our first team who can give us the footballing performance he is capable of over a certain number of seasons and then give us a return on our investment," he says .
"Sometimes in this industry there are no rules, there are opportunities and clubs that come and pay the fee that they have to pay to bring the player.
"We would like to have her for a longer period of time, but we have to understand that sometimes it doesn't happen."