A major storm system targeted the Northeast on Friday, threatening heavy snowfall and coastal flooding after high winds and possible tornadoes damaged homes and buildings, leaving thousands without power and causing 10 deaths across much of the South and Midwest.
Three people were killed by falling trees in Alabama as severe weather swept through the state. In Mississippi, a woman died in her SUV after a rotting branch hit her vehicle, and in Arkansas, a man drowned after driving into high floodwaters. News outlets reported that two people died in Tennessee when trees fell on them.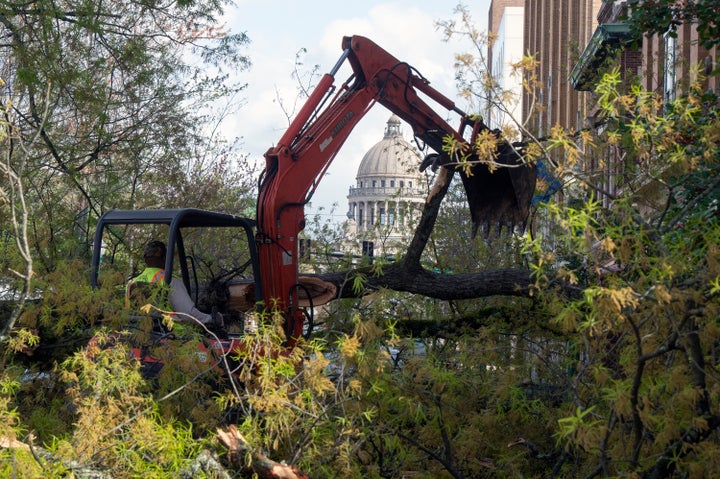 Three weather-related deaths were also reported in Kentucky in three different counties as straight-line wind storms swept through the state. Gov. Andy Beshear had declared a state of emergency ahead of the storm and on Friday night Louisville Mayor Craig Greenberg followed suit due to the severe storms, high winds, widespread damage and danger to life and property.
"I encourage everyone in our community to exercise extreme caution tonight and in the coming days — don't drive through standing water, don't approach downed power lines, and don't do anything that would endanger anyone's life," Greenberg said in a Facebook post.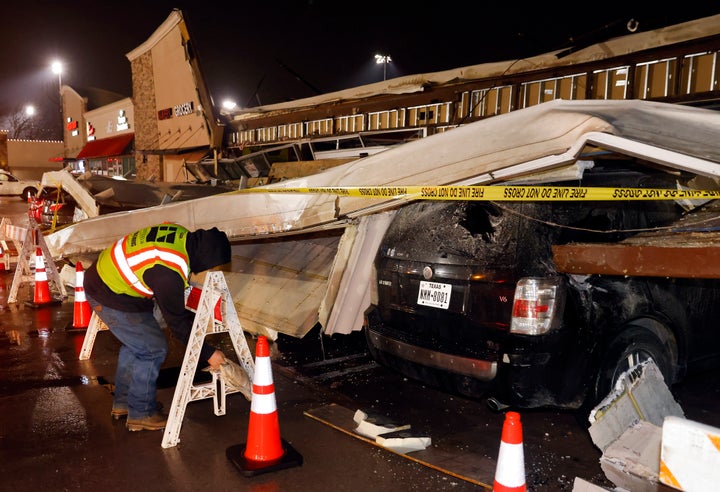 The National Weather Service in Louisville called Friday's storm "powerful and historic," with peak wind gusts between 60 and 80 mph.
More than a million utility customers in Kentucky, Tennessee and Michigan were without power as of Friday night, according to poweroutage.us.
The storm swept through the Detroit area Friday afternoon, quickly blanketing streets and roads with a layer of snow. The weather service said some areas could see blizzard conditions with snowfalls of nearly 8 inches per hour. Detroit Metropolitan Airport closed Friday night due to rapidly deteriorating weather conditions.
Detroit-based DTE Energy reported more than 130,000 customer power outages as of Friday night. It was the latest blow after ice storms left more than 600,000 homes and businesses without power last week.
The National Weather Service reported poor road conditions and numerous vehicle accidents across much of northwestern Indiana on Friday afternoon due to heavy snowfall.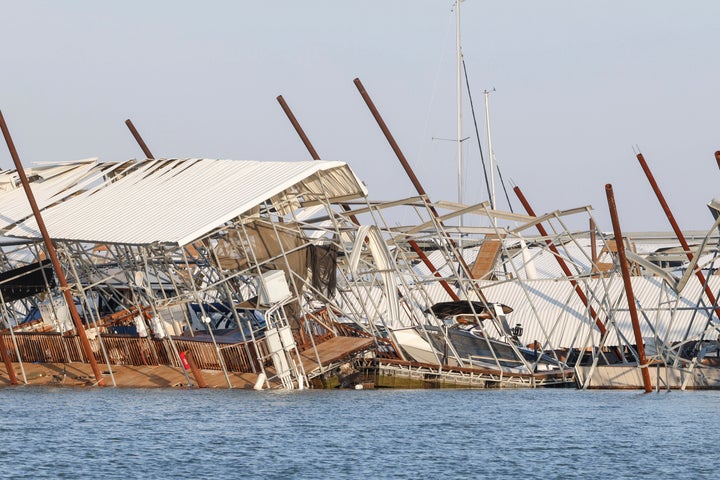 The storm system pivoted toward New England, where a mix of snow, sleet and rain was expected to begin Friday night and continue through Saturday, prompting the National Weather Service to issue a winter storm warning.
There is a risk of coastal flooding in Massachusetts and Rhode Island, and the storm could bring up to 45 inches of snow to parts of New Hampshire and Maine. The storm also brings strong winds that could cause power outages.
Portland, Maine, airport officials canceled several flights for Saturday ahead of the weather, and some libraries and businesses in the area announced weekend closures. With warmer weather expected by the end of the weekend, most New Englanders took the storm calmly.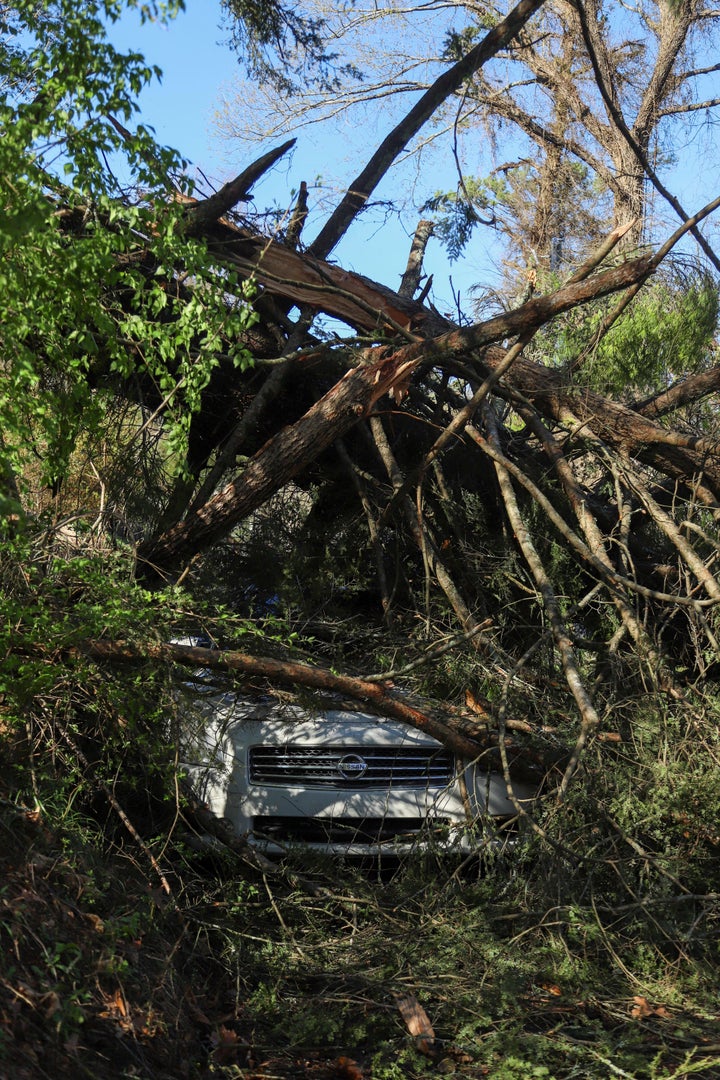 It wasn't the same story in California, where the weather system blanketed the state with up to 10 feet of snow earlier in the week. Some residents in the mountains east of Los Angeles will likely remain stranded in their homes for at least a week after the snowfall proved too much for most plows.
Many residents of Alabama, Louisiana, Kentucky, Arkansas and Texas showed up Friday to find their homes and businesses damaged and trees down by the reported tornadoes. Tens of thousands were without electricity and some without water.
In Alabama, a 70-year-old man was killed in his truck in Talledega County when a tree fell on his vehicle. A 43-year-old man in Lauderdale County and a man in Huntsville were also killed by falling trees on Friday, local authorities said.
In Texas, winds killed trees, ripped off the roof of a grocery store in Little Elm, north of Dallas, and toppled four 18-wheelers. Police said minor injuries were reported.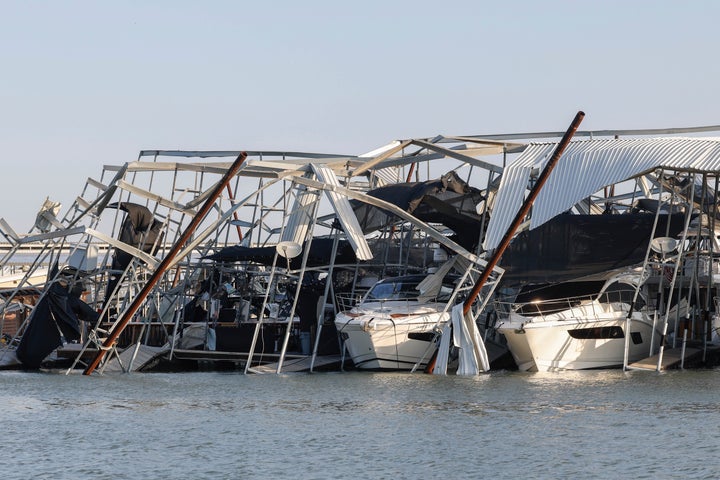 Wind speeds of almost 130 km/h were measured near the Fort Worth suburb of Blue Mound. The roof of an apartment building in the Hurst suburb was blown off, local resident Michael Roberts told KDFW-TV.
"The whole building started shaking. … The whole blanket is gone," Roberts said. "It got really crazy."
Heavy rains were also reported in southern Missouri and northern Arkansas, causing flooding in both states.
In Southwest Arkansas, Betty Andrews told KSLA-TV that she and her husband took shelter in their RV's bathroom while a tornado swept through.
"It was very scary. I opened the front door to look out and saw it coming. I grabbed Kevin and went into the bath," Andrews said. "We crouched down and I said a few prayers until it was over was."
They were fine but the house suffered extensive damage and the couple were temporarily trapped in the bathroom until a neighbor cleared the debris out front.
Elsewhere in the Midwest, Minnesota and Wisconsin expected areas of freezing fog with less than a quarter-mile visibility through the weekend, the weather service said. In North Dakota, South Dakota and Minnesota, highways can get up to 25 inches of snow and wind gusts of 45 mph on Sunday and Monday.
Contributing to this report were Associated Press writers Kimberly Chandler of Montgomery, Alabama; Margery Beck of Omaha, Nebraska; Corey Williams in Detroit; Mark Pratt in Boston; Chevel Johnson of New Orleans; Trisha Ahmed of St. Paul, Minnesota; Emily Wagster Pettus of Jackson, Mississippi; Dylan Lovan in Louisville, Kentucky; and Lisa Baumann in Bellingham, Washington.