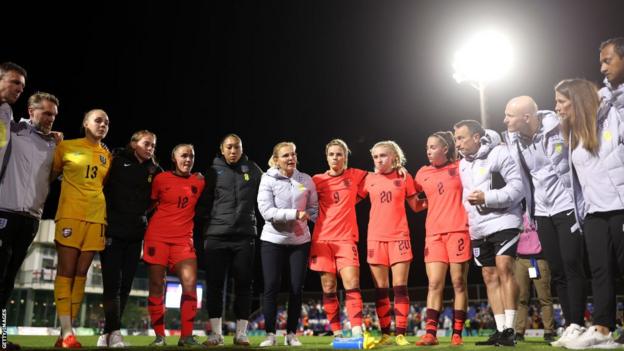 England's 2022 was incredible.
Their record was: played 20, won 16, lost 0, scored 72 goals and conceded seven.
They won a historic European title and qualified for the World Cup with a 100 percent record without conceding a goal.
What's more, they are still undefeated in the 26 games they have played under coach Sarina Wiegman – the longest unbeaten streak in their history.
The Lionesses will cherish their chance to extend that run with games against South Korea, Italy and Belgium this month. But which teams have given England their greatest test? We take a closer look at some of those close encounters that almost saw Wiegman's side bail out.
Almost pain vs Spain (twice)
Probably England's biggest test of the past year was against passport champions Spain.
Their first meeting took place in February when they Draw 0-0 at Carrow Road in the Arnold Clark Cup – her eighth game under Wiegman and only the second time the Dutchwoman has played against a team in the top 10 in the world.
It was a stalemate that Spain dominated although England had the better of chances despite large periods without the ball.
But for the Lionesses, the tie extended a nine-game streak without a win against a side in the top 10.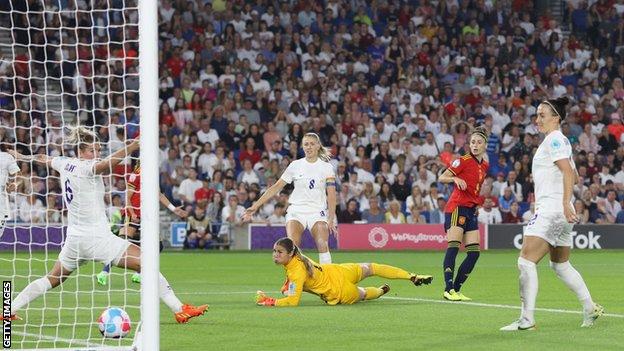 Five months later, the teams met again in the quarterfinals of the European Championship, with the Spaniards coming within minutes of losing at the end of the tournament.
The pre-EM favorite again controlled possession against the hosts and deservedly took the lead shortly after half-time.
But Wiegman gave her side renewed momentum with a triple substitution and it was two of them – Alessia Russo and Ella Toone – who equalized for the latter in the 84th minute and sent the game into overtime.
And Georgia Stanway sent home fans delirious at Brighton's Amex Stadium as she announced the winner to send England through to the semi-finals and extend their unbeaten streak to 18 games.
England win exciting European Championship final
England knew how to get into theirs Euro 2022 final against Germany that they would face the toughest tests against a strong and physical team who were serial winners.
And so it turned out.
The Lionesses were 10 minutes from penalties but fought back brilliantly after Lina Magull canceled out Toone's opening goal.
Wiegman again demonstrated some tactical mastery with effective substitutions – first Toone with the opener and then Chloe Kelly, who slotted in a loose ball from a corner to send a 20th-minute frenzy to a raucous record 87,192 crowd at Wembley extra time.
Kelly's winner gave the Lionesses their first major trophy and extended their winning record to 20 games.
World Champion USA the newest scalp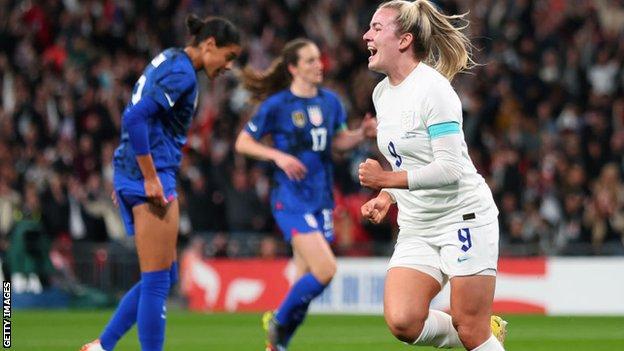 The Lionesses were back on familiar ground in October when they returned to Wembley to play against world champions USA in a friendly match.
Both sides were missing key players but the fine margins went in the Lionesses' favor, who once again proved they could withstand the pressure of the big event.
Lauren Hemp had opened the scoring for the hosts but Sophia Smith equalized for the USA before Georgia Stanway made it 2-1 for England in a frantic first half with a penalty.
The guests had ruled out a goal due to a narrow offside, but had the better chances in the second half. They were awarded a penalty for handball in the 81st minute, but referee Riem Hussein checked the VAR monitor and overturned her decision.
In a dramatic game, England clinched their first victory over the USA since 2017, extending their unbeaten streak to 23 games.
Nerves against Norway last time?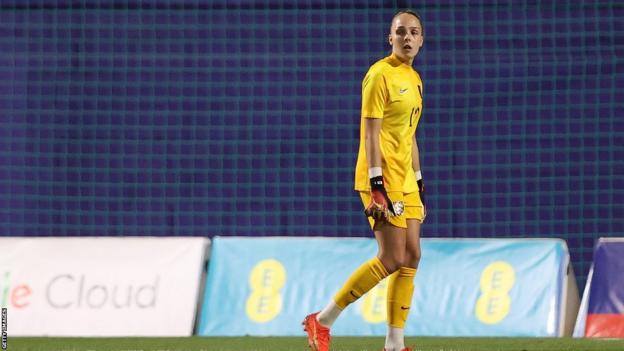 One would have thought England would end their fantastic year with another big win in a friendly against a team from Norway they had beaten 8-0 at the European Championships.
But Norway, under new leadership, were much more stubborn in defense during their game in November.
A much-changed England still looked set for victory thanks to substitute striker Rachel Daly's first-half strike as her side monopolized possession. But Norway equalized ten minutes from time through Frida Maanum following a mistake by goalkeeper Ellie Roebuck.
Somewhat fortunately for the Lionesses, their opponents had been reduced to 10 players eight minutes earlier, so they decided not to continue in the closing stages the game ended 1:1.
Wiegman described it as a "disappointing" way to end the year and she knows there is much tougher testing ahead as they prepare for this summer's World Cup.