Warning! Below are spoilers for 65. Do not proceed if you don't want to know the details of the scene.
Now that 65 is in the world, we've saved part of our conversation with writer/directors Scott Beck and Bryan Woods to delve into some specific sequences of meaning that the two agree helped shape the final film and enhance the emotional story they were trying to achieve. First there is the issue of the long time between production and release, which ended up being a full two years.
65 was filmed on location in late 2020 and early 2021 and was originally scheduled for release in May 2022. However, Beck and Woods say the delays gave them the luxury of particularly extended post-production time. When asked what that time gave them in terms of making the film, Beck says it gave them a necessary runway for the VFX.
"There was a world where this movie could come out sooner, but the visual effects would be 60% of what they are. And Sony and we said 'no,'" says Beck. "That can never be the end goal. And then we're constantly trying to build in schedules where you shoot the film and then you react to that. Then you have the luxury of, 'Okay, we need that emotional beat here or that suspense punch there.'" They were able to rate the actors and call them back for additional shoots in Ireland. "Some of those scenes are now our personal favorites in the film," admits Beck.
He cites a specific scene in Act II where Mills and Koa are still at odds and she is about to suffer a traumatic dinosaur attack. "He tries a tactic to get her out of the shocked nature she's in and he starts whistling which is an echo of what he taught his daughter before he had to go on this journey. And that's the last time he ever saw her," Beck elaborates. "It's a scene where you could almost just set up the cameras and have Adam and Ariana just perform. It was really incredible to see their dynamic there, because they had lived in the characters for so long by the time we shot that scene it was second nature to them."
close ties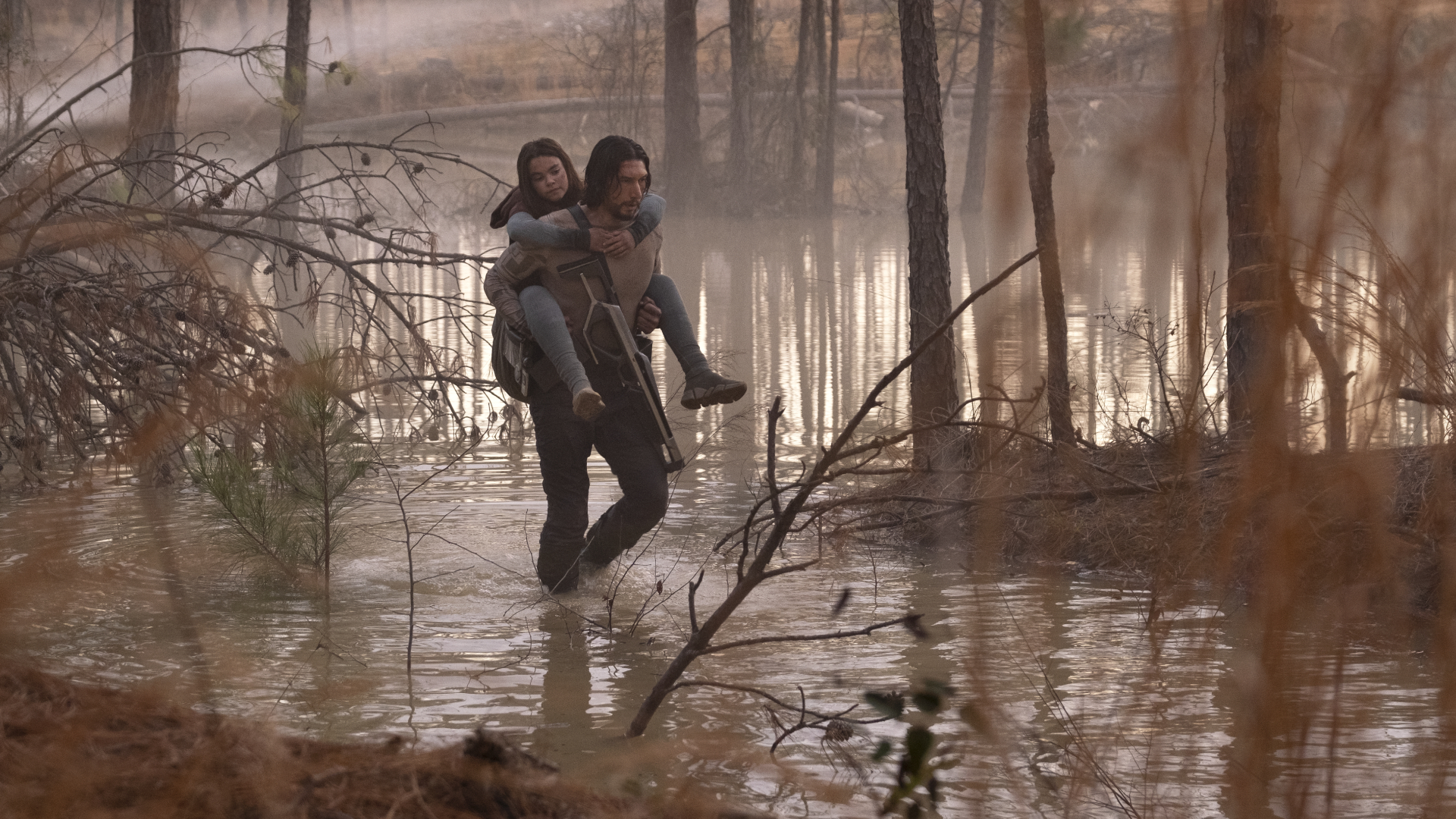 Beck is also gushing about young actress Chloe Coleman, who plays Mill's daughter, Nevine. He says she and Adam also formed a bond that really sold their father-daughter relationship. "In almost every scene you see with Chloe, Adam was usually on set, even when he wasn't in front of the camera. The dynamic between the two felt incredibly real. And it was incredibly generous to see each of them giving almost a piece of themselves in real life to feel that father-daughter bond in an authentic way."
Woods continues, "There's a scene at the end of the movie in the escape pod that was very emotional for him. He has to go to a very emotional place and Chloe said, 'I have to be on set to be there for him.' It was very sweet, as Scott said, to see how much they wanted to be there for each other and help each other to be their best performers."
The whole film ends on a rather graceful note with the flaming destruction of an asteroid that ushered in the dinosaur-era extinction on Earth. We then see it now via VFX time-lapse. When asked if this was always her dream image for late 65, Beck says it was an idea that came to them in the very early days of writing. However, it wasn't actually implemented until the 11th hour of post-production when they finally got the go-ahead.
"In this way, we wanted to convey that the theme of the film is essentially about rebirth," explains Beck. "In the face of loss, there is rebirth for Mills and Koa. They found each other in the same way the asteroid destroyed all life on Earth. But it wasn't the end for Earth. There was a rebirth there that made room for us to speak here on Zoom. And so this sequence at least semantically solidified for us what this film is. But we also just found it a fun evolution to see how the Earth evolved over these millions and millions of years.
---
For more exclusives following Beck and Woods' release on 65, see our discussion of what Driver contributed to the film and grab a copy of Issue #364 of SFX Magazine, available from the stands on March 22nd is.